Pandemic is a co-operative board game from Z-Man Games for 2 – 4 players, though it could easily be played as a solo game. The average playtime is around 45 minutes for a game though this can be cut short if you fail early on! In Pandemic players are playing cooperatively against the game itself. The world has succumbed to an apocalyptic scale event, which for once doesn't feature zombies. Four killer viruses are spreading around different regions of Earth and the CDC (Centre for Disease Control & Prevention) is the last line of defence. A group of survivors sets out from the CDC to hopefully become heroes and find a cure of each virus strain, before time runs out.
Starting at the only Research Station, in Atlanta, players see a different situation every time they play. While the world board doesn't change, what viruses are most prominent and which cities are infected can completely change. This is because the infection deck dictates which cities succumb to disease. This infection deck, which contains locations, is shuffled and at the start 9 cards are drawn. The first three cities flipped receive 3 disease cubes. These represent the magnitude of the virus and the colour matches the region the cities is in (Blue, Black, Yellow and Red). The next three locations receive two cubes and the final three only one cube per city. This setup means players can be initially drawn to save the Middle East in one game but in another be focusing on South America. It may not sound like much but if the viruses are extremely spread out it can make it harder from the offset.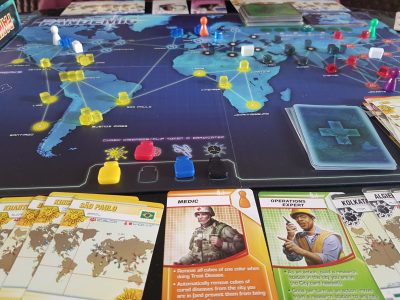 Each turn players will try to make steps towards curing the diseases without fateful outbreaks. On an individual's turn they get four actions which can include moving to joined cities, spending a card to fly across the board or build a research station, removing a disease cube or they could discover a cure for a disease. Moving is going to be key to getting around to cities with multiple disease cubes. Research stations are needed to find cures. By trading in 5 Player cards of the same type to a research station players can discover a cure, finding all four cures is the only way to win. So as you can see all actions are helpful is one way or another.
When building a research station or flying to a location players will need to discard a player card, but not just any one. You'll need a player card that matches the city you're in if you want to build a station or fly to anywhere on the board. Flying is a bit more flexible though allowing players to also spend the card matching their destination. Either way players won't want to waste player cards as they are needed for finding cures. Thus, it is often a bit of a trade-off of which cards players can afford to spend.
This is where the hand management aspect of Pandemic comes into play. When a player has spent their four actions it the must draw two player cards. These could be useful location cards to travel to or build into a set of five to cure a virus. It could even be an extremely beneficial but rare event card. These allow a player to do a range of special actions such as fly to any city for free or completely skip the infection step. Before we get onto the infection step, also shuffled into the deck are four epidemic cards.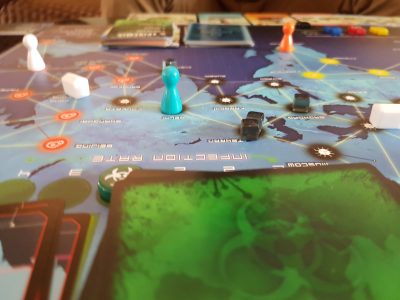 As the name suggests, an epidemic isn't great for players trying to cure the world. The bottom card from the infection deck is flipped and three disease cubes are placed on the revealed location. The epidemic marker increases on its track. All previously used infection cards are shuffled and placed on top of the deck. Then and only then is the normal round resumed where at the end of a go players flip over a number of infection cards, equal to where the epidemic marker is. At the start of the game this marker is at two so after taking two player cards two infection cards are flipped from the infection deck and a disease cube is placed in the corresponding cities.
So why does it matter if these disease cubes keep mounting up? Whenever a city is meant to gain a fourth disease cube instead an outbreak occurs. Firstly, every connected city to the outbreaking city gains a disease cube of the outbreaking cities colour. If this happens on the edge of two regions you can then find cities with multiple types of disease in at once! To make things worse, the outbreak marker raises and after 8 outbreaks the game is lost. Bear in mind that often chain reactions occur when this happens, especially late on.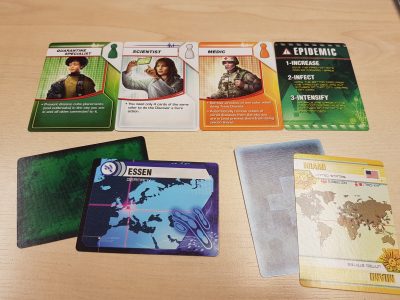 There are a lot of ways to lose Pandemic but that only makes the game better. Players get a sense of achievement when they finally beat the game. Don't go into your first game expecting to win. If it isn't the outbreaks that cause a loss, players can also lose by running out of any of the types of disease cubes. Oh and you can always run out of time by not being able to draw additional player cards. Fear not there are things that make the game less brutal. For example, once a virus is cured players can spend one action to remove every cube of that colour from a city, instead of an action per cube. On top of this if a virus type is completely removed from the board it is eradicated and infection cards of that colour have no effect giving players a needed respite.
Despite being for up to 4 players there are seven unique characters included in the box. Each has a unique trait that makes them indispensable, which makes it extremely hard to choose whom to take on the mission. Medic is often seen as one of the strongest being able to remove multiple cubes of the same colour from a city from the beginning of the game. Yet, each is extremely powerful if you play to their strengths. The Quarantine Specialist can literally save a game by stopping disease cubes spawning in a city she's connected to. Conversely, in other games she could be consistently in the wrong place and making her special trait completely ineffective.
After playing Pandemic a few times different strategies start to be more apparent. If at any point you deem the game to be getting a tad easy there are difficulty options. Nothing game changing but additional epidemic cards are included in the box. Including these in the player deck often results in more cubes on the board via these epidemics, they also occur earlier in the game and move the infection marker further up the tracker. The game is brutal enough by default but it's nice that others can cause themselves more pain if they so wish.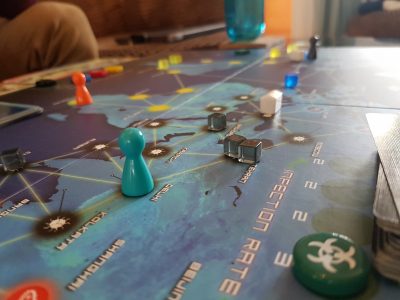 Quarterbacking is a term often banded around when cooperative board games are spoken about. This is when one individual pretty much takes control and dictates the turns of the other players. Pandemic like many coop games does little to stop this and it can ruin players' experiences. There is nothing worse than looking at the board, trying to work out what actions to take and then someone pretty much demands a different action. Suggestions and discussion are fine but players should be left to make their own decisions. It's best to nip this in the bud early on if you notice it happening.
Before the legacy version, the world was treated to what is considered the base game. Pandemic is surely going to go down as a classic. As a co-operative board game, it puts player choice firmly at the forefront of the game and despite the threat of quarterbacking it is a great experience. The game is hard enough that players will groan collectively and get a combined sense of achievement when they finally save the world. Due to the variation between games from the available characters and the disease cube spawning often two games can play out extremely differently. This drives an experience that not only offers replayability but one you'll want to keep repeating. That is why Pandemic is a board gaming essential!
[Editor's Note: Pandemic was provided to us by Esdevium Games for review purposes. The game is currently available on 365 Games for £27.99. It is also available from local UK board game stores, find your local store here]