Enjoyment is an interesting concept. Sometimes a game can have negative aspects, such as a bad story or terrible gameplay, but find success in capturing that feeling. Cladun was never a game that stood out in any particular way, yet it offered simple gameplay that was fun. Now that it's back, Cladun Returns: This Is Sengoku! hopes to capture the same feeling, while bringing the series forward. Between online play, classic graphics and roguelike elements, is Cladun Returns: This Is Sengoku! a must or did they lose the magic?
Cladun Returns: This Is Sengoku! takes place in the world of the dead. You're told that you died in the past and it's your job to help others crossover. A simple premise that takes a predictable turn when it turns out people can't return for whatever reason. Your goal is to help people find peace and find out what is preventing people from crossing over.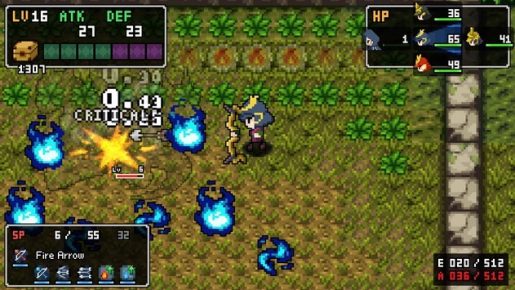 The brief story, which is around 50 stages long, is essentially a long winded introduction to the world of Cladun Returns: This Is Sengoku!. The idea is to explore various locations, overcome multiple different enemies, master the mechanics and start your journey in the huge post game dungeon. It's an interesting goal, one that is held back by punishing mechanics.
More often than not, you'll die to traps. These are somewhat well hidden, they become more visible the closer you get, tiles that cause various things, mostly negative, to happen. Some of them can be used to help, for instance arrows can be triggered to hit enemies, but others will get the best of you. The biggest offender is spike traps, which if you accidentally trigger, can easily ruin a potential run, assuming you touch the spikes. When you add ice sliding to the mix, a simple error is more than enough to kill everyone.
Thankfully the average dungeon is only a minute long, so it means very little in the grand scheme, though the post game dungeon can result in a loss of hours of progress. The best way to counter this is to grind.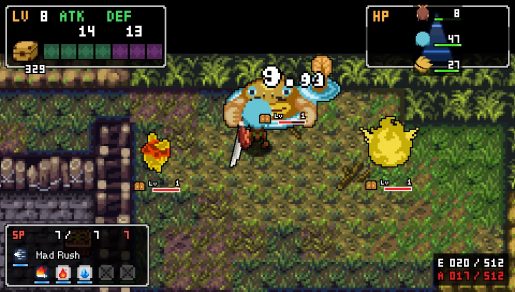 Cladun Returns: This Is Sengoku! does a poor job with progression. It isn't uncommon to feel powerful or even over powered, for the next dungeon to have you feel weak. There are many ways to fix this, be it changing builds, swapping characters or improving your game, but the simplest is grinding. By heading back to lower tier dungeons, you can collect better gear, gain supplies, get more cash/experience and eventually find success. This can be frustrating, especially if you just want to progress, but it is redeemed by the generally enjoyable gameplay.
There isn't a lot of depth to Cladun Returns: This Is Sengoku!. One button attacks, another does magic and a third blocks. This is what combat boils down to. Fighting enemies will vary, with certain enemies being a push over and others requiring attacks from a certain direction to be effective, making for a fun experience. As long as you're avoiding traps and playing smart, the highs and lows of RNG stand out. Before finishing the story, the post game dungeons are the most fun, as they're all about long term success, making short term obstacles less common, making the experience more combat driven.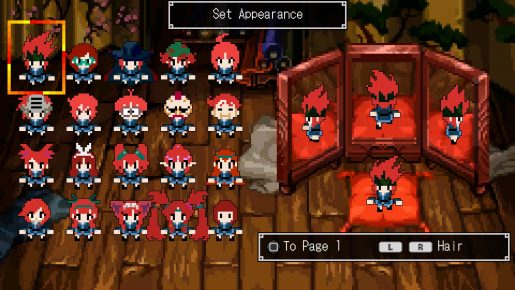 Besides the simple combat system, Cladun Returns: This Is Sengoku! offers a lot in terms of customization. You can make and level multiple players, make complex relationship charts, design weapons/armor/their look and generally have a lot of fun. These creations can also be shared, so less talented players can also enjoy player created weapons, armor and so forth.
Verdict
Cladun Returns: This Is Sengoku! is a fun game that is held back from infuriating mechanics. The simple combat makes dungeon exploration fun in a way not unlike Dynasty Warriors. Roguelike and RNG also add plenty of depth, so every experience will be a little different and there is always something different to experience. That being said, traps and cheap deaths are not uncommon and can impact enjoyment. If this is not a problem, odds are you'll enjoy Cladun Returns: This Is Sengoku!, where as those bothered by it are likely better off playing something else.
[Editor's Note: Cladun Returns: This Is Sengoku! was reviewed on PS4 platform. The game was provided to us by the publisher for review purposes.]
Cladun Returns: This Is Sengoku! Review

,