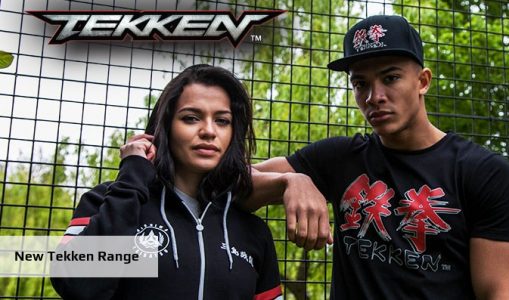 To celebrate the release of Tekken 7 next month, many retro style Tekken merchandise is being released at retailers across Europe. You can gear up on merchandise to show that you are a true fan of the series.
As announced via a press release, Bandai Namco Entertainment Europe has teamed up with Numskull Designs to officially reveal the retro Tekken merchandise range. The merchandise comes in time for the launch of Tekken 7.
The retro range includes: "Socks, Steel Mug, Snapback, Mishima Hood, Heat Reactive Mug, Original T-Shirt, Wallet, Original Key Chain, You Win! Key Chain and a Mishima T-Shirt"
Some of the retailers stocking the range are: GAME UK, GAME Spain, EB Games Australia, EB Games Canada, Gamestop Italy, Enarxis Greece, Koch Media Germany, Geekay UAE, Game Mania Benelux and more.
If you want to look at the full range, you can visit the official Numskull website by clicking here. Tekken 7 itself launches on the PC, PS4 and Xbox One on June 2nd, 2017.