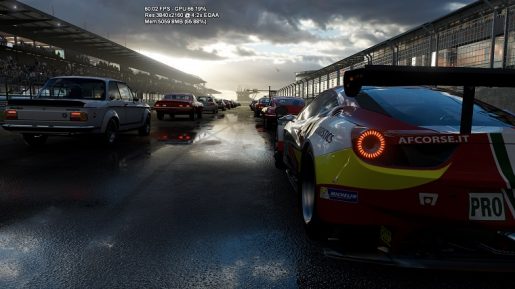 The specs for Microsoft's Xbox Project Scorpio console have now been revealed in full. This report comes courtesy of Eurogamer and the specs are mightily impressive.
First a screenshot was released that shows that the Xbox Project Scorpio is capable of running games at native 4K at 60fps. The screenshot you see above is for Forza running at 60fps at 4K.
Now let's talk about the specs. The CPU is Eight custom x86 cores clocked at 2.3GHz. The GPU is 40 customized compute units at 1172MHz. The Memory is 12GB GDDR5 while the Memory Bandwidth is 326GB/s.
Much like other Xbox One models, it will come shipped with a 2.5 inch 1TB hard drive out of the box. You will probably be able to extend the hard drive space with an external hard drive. The optical drive is 4K UHD Blu-ray which means it can run 4K Blu-ray discs unlike the PS4 Pro.
The Xbox website also posted additional information on what's under the hood of the Scorpio. Sadly, the console itself was not shown. Well just have to wait for that at a later date. The Digital Foundry video below also has more additional news about the console. The console is due out later this year.