Puyo Puyo and Tetris aren't too different and have long histories. The two puzzles games have tried new ideas, implemented multiplayer elements and plenty more. So when Puyo Puyo Tetris was announced, it wasn't too surprising. Sure the two series are quite different, but their core is very similar. With several modes, online and offline multiplayer and even a story mode, is Puyo Puyo Tetris a must or is it another lame crossover?
Puyo Puyo Tetris has a bunch of modes, but none is more important than lessons. This mode explains the mechanics of both games, in a way that anyone can understand. The nine lessons are broken up into puyo puyo, tetris and fusion, with each category having a beginner, advanced and expert level. Those familiar with these games probably don't need lessons, but they go over basic elements, like how attacking works. The downside is even the expert category isn't going to explain how to be an expert, which is where adventure comes into play.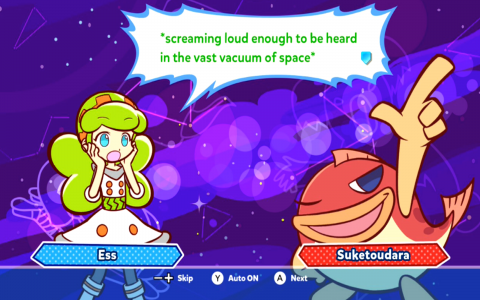 While the lessons cover basic elements, like how to spin, chaining and the requirements to get a tetris, adventure mode is Puyo Puyo Tetris' story mode. The story is quite straightforward. The world of Tetris and Puyo Puyo are coming together and the two groups need to find out what is going on. Most of the story is quirky dialogue and silly characters, not unlike the Neptunia series, making for an amusing experience. However, the real highlight isn't the story, but the stages.
Adventure mode has 100 stages devoted to teaching you how to play Puyo Puyo Tetris. Every level has a requirement, be it score however many points, destroy a set number of lines, achieve such and such level and so forth, with each one having three tiers. One star is for beating the level, with two and three stars requiring much points or clearing within a set amount of time. Some of these can be difficult, as can the levels themselves, which don't need to be completed to progress. After a couple failures you get the option to simply skip the level. This prevents people from giving up too quickly or getting stuck for too long.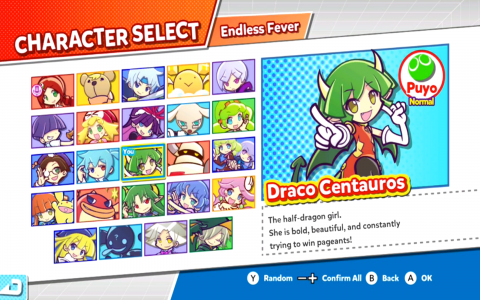 The nice thing is that the levels incorporate the various different modes. Sometimes you'll be playing fusion, which is a combination of puyo puyo and tetris; other times it's swap, a mode where you have one board devoted to puyo puyo and another for tetris and you'll keep switching until one of the boards is unplayable and several other modes. What makes this great is that it forces people to not only play the other modes, but learn how to play them too. This is important, since Puyo Puyo Tetris is surprisingly deep for such a simple game.
This can be seen with the aforementioned fusion and swap modes. To be successful at fusion mode, the puyo need to be set up in a way where they'll pop when forming rows. This is because tetris blocks squish the puyo, causing them to land on top of the blocks, resulting in another way to pop them. As for swap, the trick is to set things up to cause garbage blocks to fall on the board the other player is bad at or just focus on one side. This sounds easy, but the only way to do it is by setting things up and causing them to break at the right time. So if the other person is bad at tetris and you're on the puyo side, you're going to want to wait until the boards swap or are about to swap and send garbage over. If done correctly, the garbage will land on the tetris side, making things harder for them.
Once you get the hang of Puyo Puyo Tetris, it's time to experience the other modes. The first mode is solo arcade, where you can freely select any of the six modes. In addition to fusion and swap, there is versus, party, big bang and challenge. All of these modes, besides challenge, can also be played in multiplayer arcade or online.
Versus mode is just your traditional puyo puyo and tetris mode. After selecting a character, you can select either mode and you'll be playing that game, with the other person playing the same or different game. This choice is important, since the two modes are very different. Puyo puyo requires more of an attack style, with tetris leaning towards defense, due to how they're set up. Since it's harder to clear garbage in puyo puyo, you need to prevent being overran with garbage, with the opposite being true for tetris.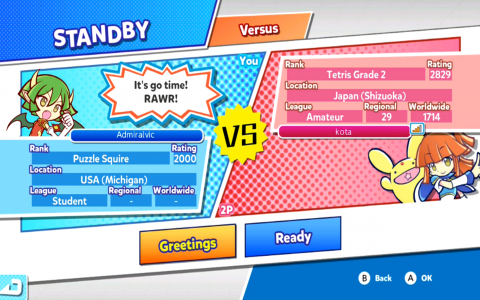 Party takes a page from Mario Party and adds modifiers to the mix. At the stage of party mode both players will receive a random modifier that can be activated by line up blocks or popping puyo. These modifiers can be positive, like single blocks, or annoying like removing the other person's ability to spin blocks. Every time a modifier is activated a new one will drop, with that one staying until you destroy it or fill the board. Unlike other modes, filling a board isn't a loss. That player will receive a new board, with the other player receiving additional points. The person with the most points at the end of the match will win.
The next mode, big bang, is quite interesting. Instead of relying on the ability to plan 10 moves in advance, big bang has preset boards with fixed solutions. The goal is to figure out the solution faster than the other player and earn mode points. After a fixed amount of time the person with the most points will damage the other player an amount based off the difference in their scores. This allows even the most unskilled player a fighting chance. Finally, there is challenge, where you have criteria, such as playing until you lose, making 40 chains or a set time limit and your goal is to set high scores.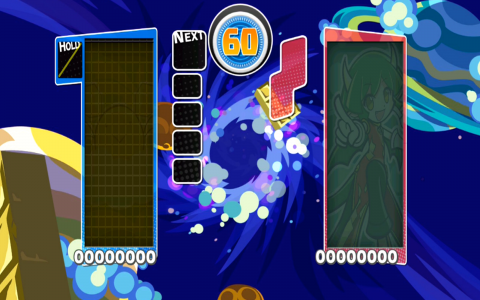 Even though Puyo Puyo Tetris offers several different modes, the real highlight is multiplayer. For most, this will be online. Now online has two main modes. The first is puzzle league and the other is free play. While free play lets you freely play any of the five modes, puzzle league is limited to versus. The reason puzzle league is limited to versus is because you receive a rank based off wins, loses, their rank and various other factors.
Currently, puzzle league can be a little stressful, since the skill range seems to be pretty high. Every player starts off with 2000 points and I was matching with Japanese players in the 3000 range. Hopefully things will be more balanced when more players join the pool. Outside of that, the mode itself is smart. Every match requires two wins, with the goal being to out play your opponent. For instance, the second match I played I lost the first round because they were really good at defense, so I set up larger attacks and easily won the remaining two. This allows for better competition, though don't be surprised if things get intense.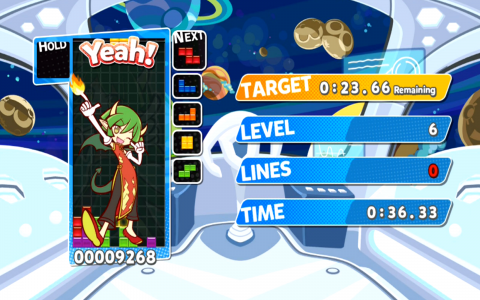 If online isn't your thing, there is also offline multiplayer. What makes offline so amazing in Puyo Puyo Tetris is that it encapsulates the Nintendo Switch experience, so much so that it might be the best example of it throughout the systems life. Not only is there plenty to do solo, but a single Joy-Con can be used to play. So, even if you're out in the real world and someone challenges you to a match, you can simply detach the controllers and have a round, without it being used expressively for that purpose like 1 2 Switch.
Verdict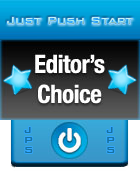 Even though Puyo Puyo Tetris might sound silly on paper, it's an amazing game that has a robust single and multiplayer experience. Sure, the story isn't great, but the stages act as an amazing tutorial. Not to mention, it also gives people uninterested in high scores plenty to do, with several modes for those looking to beat their best score to experience. Mutliplayer offers several different modes, with something for everyone. You can play one game or the other, a combination of the two, swap between the two games, battle in a low stakes party mode or just be the fastest to find the correct solution. Add all of this with the ability to play offline and use a single Joy-Con or online and test your skills against players around the world and you have a game that is an absolute must for every Switch owner.
[Editor's Note: Puyo Puyo Tetris was reviewed on the Nintendo Switch platform. The game was provided to us by the publisher for review purposes.]
Puyo Puyo Tetris (Switch) Review

,