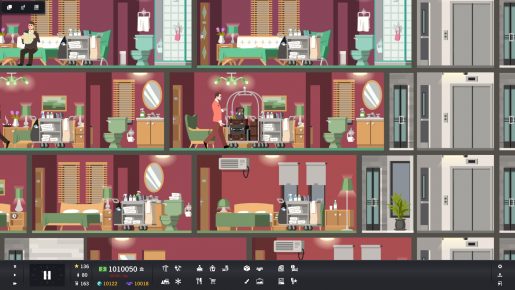 Coming with the tagline "Forget Sim City, this is Sin City" this first expansion adds Las Vegas content to Project Highrise.
The base game has sold over 230,000 units since launch and the developers have already released seven updates for free. This first full expansion, which costs £4.99/€6.99/$6.99, adds in everything you'd expect of Las Vegas. This includes casinos, nightclubs, shows, hotels, VIPs and more. Below is a full explanation of each of these additions direct from the devs:
Casinos – Entice people to come and part with their hard-earned money in style, with all new casinos.
Hotels – Why do your visitors need to leave at all? Keep the business travellers and high-rollers rolling through, with rooms of all sizes that fit every need – but be sure to keep them happy as your ratings depend on it!
Events & Shows – Bring in the best show in town, and attract crowds of happy visitors… and their wallets. Have them come in for the show, but stay for the food and the games.
VIPs – Invite rock stars, comedians, or business gurus to come and perform at your venue – but just don't expect them to come for free! The bigger the celebrity, the bigger the demands.
Evolved Gameplay – Experience how the new location challenges your building skills, from new type of Air Conditioning utility, to special service elevators, NPCs, random events and more.