Side-scrolling adventure games have seen a resurgence in recent years thanks to games like Limbo and many others. Riding the wave of this momentum comes a new game from called Little Nightmares by Swedish developer Tarsier Studios.
The best way to describe this game is that it's like Limbo as you play a young child that is trapped in a weird place. As the player, you need to guide this child out of there but that's easier said than done. It's also worth mentioning that Little Nightmares is far creepier than the black and white graphics of Limbo.
The child's name in this game is Six and she is a young girl in a yellow raincoat. She's trapped in a ship called The Maw and needs to get out. Her task is a hard one because she is as tiny as a mouse and there are large ugly fat beings out there trying to grab and kill her.
The story is open to interpretation, but it's interesting until the end. You are free to use your own imagination which in my mind is pretty cool. I won't spoil anything else about the story, but it's very unique and you will be surprised when you play it.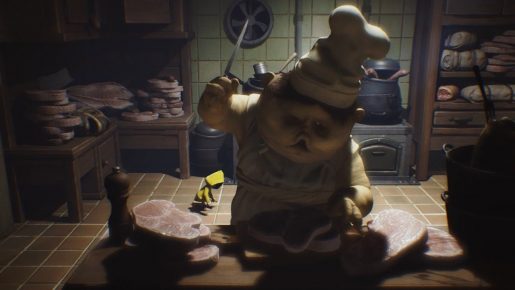 In terms of gameplay, Little Nightmares is more than just a simple platform video game where you have to travel from left to right. It's a game that forces you to think as there are obstacles for you to overcome and puzzles to solve. You mainly have to search all areas of the level to find a solution.
The thing that makes this game so scary to play is how vulnerable Six is. She's just a little girl and has no means to fight back. All she has is a lighter and her ability to grab items and jump. The main bulk of the gameplay requires you to find ways to enter the next area.
This is easier said than done because Little Nightmares throws a lot of stuff your way. One of the big things you have to avoid are the fat ugly humans. Some of them are chefs and just want to slice you in half. It can be pretty scary playing this game when they are chasing at you.
The key to surviving in this game is using stealth. Six is able to crouch in little corners and can creep past without being seen. Sometimes you may need to steal a key from the ugly humans so you have to be really quiet in order not to cause a scene.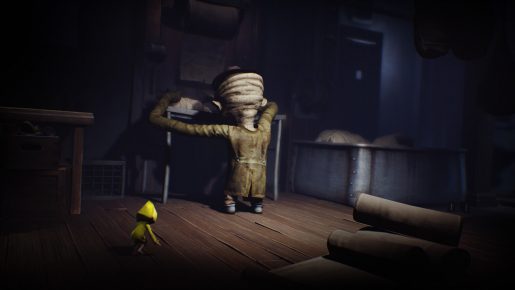 In other areas of the game, you may need to find areas to climb or switches to press. The gameplay style is quite smart and innovative. It's not a game full of jumping puzzles or repetitive tasks. Every area of the game adds a new challenge for you to solve and each solution is different each time.
The game also rarely gives you any hints to progress most of the time. There is no hand holding whatsoever so it's up to you to find out things for yourself. I recommended you play this game without any guides whatsoever for a more rewarding experience. Even if you find yourself stuck in a puzzle, it's best to keep exploring as you will eventually find a way out.
The only thing I didn't like about the gameplay is how sensitive the controls are. In order to hold onto ledges, you have to keep pressing down the R2 button. This can be annoying sometimes because you can often find yourself slipping if you let go.
Another slight annoyance is walking on small ledges. You have to be super precise in moving the analog stick or else you will fall to your death. There were numerous times the analog stick tilted far too much and I ended up dying lots of times…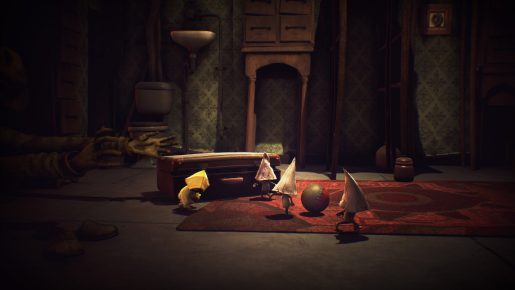 Outside of the gameplay, Little Nightmares does a great job of creating a scary atmosphere. This is mainly due to the character models that have been created. It goes without saying that this game has one of the ugliest and nastiest human character models I have ever seen. Even Tim Burton hasn't created characters this ugly.
The ugly character models and dark style of graphics works in this game's favor though. I feel too many game developers rely on jump scares and gore to frighten people. This game does a great job of scaring people just by its own character models!
As much as I enjoyed playing this game, it's a little on the short side. I think I completed this game in six hours or so. There is not much replay value unless you want to collect all of the concept art available. After you complete the game once, you can visit any chapter you want. That being said though, I don't think it's a game that will keep you occupied for hours on end.
Verdict
Despite being a short game with some fiddly controls, Little Nightmares is still an enjoyable experience. It's by far the creepiest video game I have played in recent memory and the story and premise is intriguing. If you are a fan of Limbo, you should definitely try and play this game. It's also best to play this game for yourself without spoilers. You'll be sure to be more shocked!
[Editor's Note: Little Nightmares was reviewed on the PS4 platform. The game was provided to us by the publisher for review purposes.]
Little Nightmares Review

,