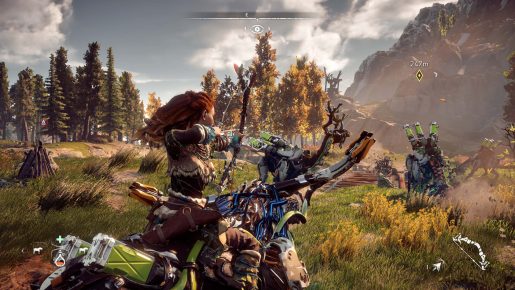 Even though Horizon Zero Dawn 2 has not been officially announced yet, Guerrilla Games has talked about what a future sequel might include if it gets made.
Horizon Zero Dawn's Narrative Director, John Gonzalez, talked about what a potential sequel could include during an interview with Game Informer magazine (via WCCFTech). He said the number one goal for a potential Horizon Zero Dawn 2 is to respect the connection of Aloy and the player by creating a story just as emotional as the first one. He said the last thing they want to do is disappoint fans.
In the same interview, Art Director Jan-Bart van Beek also talked about what a future sequel might have. He said that the sequel will definitely include more machines and he wishes that he could include create over 100 machines. He says it's not possible, but there will be more machines in a sequel.
Game Director Mathijs de Jonge also chimed in and basically said that the sequel will have improvement to the gameplay. He wants to find a method where selecting weapons would be easier for the player. They could copy the method used in Breath of the Wild. Anyway, what would you like to see in Horizon Zero Dawn 2 if it gets made?