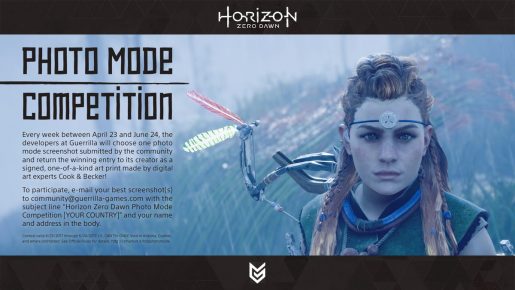 Guerrilla Games has announced a special photo competition for Horizon: Zero Dawn. Each week you can submit the best photos in the game in hopes to win a special art print.
Guerrilla Games announced the Horizon: Zero Dawn competition over on Twitter. Basically each week from April 23rd until June 24th, you can submit your best photos from the game to Guerrilla Games.
If you manage to win, you will receive a one-of-a-kind art print signed and made by Cook & Becker. To submit your entry, go to community@guerrilla-games.com.
The competition is open to people over the age of 16. The following countries can participate: "Australia, Austria, Belgium, Czech Republic, Denmark, Finland, Germany, Ireland, Netherlands, New Zealand, Norway, Poland, Portugal, Russia, Slovakia, Spain, Sweden and the United Kingdom". Click here to read the full rules and good luck to anyone that is entering!