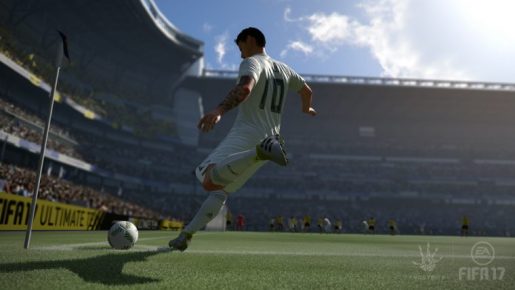 EA Sports has released a new update for FIFA 17 on the PS4 and Xbox One platforms. The new update is version number 1.08 and the full patch notes have been revealed.
If you want to download the new update, it's 885MB on PS4 and just over 1GB on the Xbox One. The PS4 changelog reveals all that it does. You can check out the details below.
Addressed the Following in FIFA Ultimate Team
Added the ability to limit the number of times a player can win a weekday knockout tournament in FUT Champions. This will be visible on the main FUT Champions HUB tournament tile.
Added the ability to limit attribute items for FUT Champions matches. This will be visible in the event details screen.
Added new squad restriction options to FUT Champions such as player type
Added games remaining to the FUT Champions leaderboard
Visual/Presentation Changes
Updated Chapecoense's team crest
Fixed Axel Tuanzebe's 2D player photo
Addressed an issue where a player's overall rating is displayed incorrectly
Addressed the Following in Gameplay
An issue where the goalie would pick up the ball after a pass back from a teammate
Disabled the penalty kick indicator and FIFA trainer from all FUT Champion matches
Standardized the latency bar graphic across all online modes
FIFA 18 will be out later this year for your information. It will be the first game in the series to hit the Nintendo Switch console. Bear in mind the Switch version will be slightly different to the versions released on PC, PS4 and Xbox One.