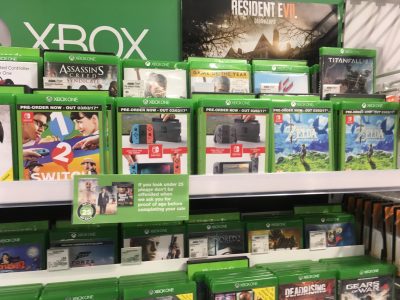 A UK retailer named ASDA is allowing people to pre-order the Nintendo Switch and its games. The only problem though is that they are using Xbox One game cases for Nintendo products!
Reddit user chrisw81 posted the very funny picture at ASDA. They use Xbox One game cases for 1-2-Switch, The Legend of Zelda: Breath of the Wild and even for the Nintendo Switch console itself.
Another reddit user by the name of thechaospredator gave a possible explanation on why this mistake happened in the first place. It might be because their Switch game cases have not arrived yet.
The user said: "Sometimes they don't have the boxes for the games so they try to save money and plastic by reusing empty game cases, in this case from the Xbox One."
That being said, it doesn't really explain why the Switch games have been put in the middle of the Xbox One section of the store. It would have made more sense if they used generic DVD cases and advertised the products on a different shelf…