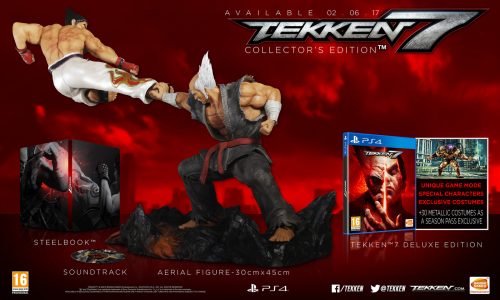 Bandai Namco has finally announced the release date for Tekken 7 earlier today. That's not all because the publisher also announced all of the other extra goodies you can get for the game too.
First of all, lets get the most important announcement out of the way first. Tekken 7's release date will be June 2, 2017. It will be available for the PC, PS4 and Xbox One platforms. Sorry Nintendo fans, no Switch version has been confirmed yet.
As you can see above this post, there is also going to be a Collector's Edition of the game that features a huge statue of Kazuya and Heihachi. The Collector's Edition is only available for PS4 and Xbox One owners though. This version of the game also comes with the official soundtrack and special steelbook.
Another thing announced is the Season Pass for the game. The Season Pass grants you access to more costumes, playable characters, stages and a whole lot more.
Next up if you pre-order the game, Eliza will be available as a playable character. You may remember Eliza as the sexy vampire character from Tekken Revolution. If you pre-order on Xbox One, you get a free copy of Tekken 6 that is backwards compatible.
Lastly, PS4 owners of Tekken 7 will be treated to even more extras. You will get special legacy costumes for King, Xiaoyu and Jin featured in Tekken 2 and Tekken 4 respectively. PS4 owners also have access to the Jukebox Mode that has music from the older Tekken video games. You can also look at the new trailer that has been released below.