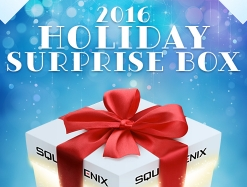 Once again Square Enix has released a Holiday Surprise Box just in time for the Christmas period.
The virtual box is guaranteed to contain seven PC games, although which games is kept secret. For £4.99/$9.99, customers will according to Square Enix receive Steam games "with a value worth over £55/$80". The Holiday Surprise Box is available for purchase already with it unlocking and the sale ending on December 19th, at 12pm GMT / 4 am PST on December 20th.
This can be a great way to bolster your game collection, as well as getting some great Square Enix titles. To check out the Holiday Surprise Box head over to the Square Enix Online Store.