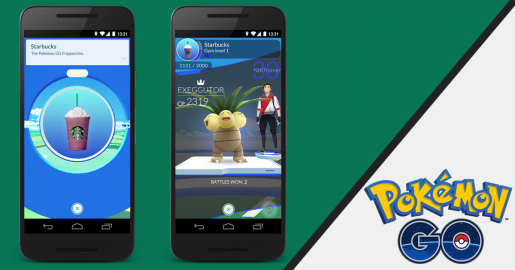 Pokemon Go is further expanding its reach to try and penetrate as many people as possible. This time, the game is invading Starbucks locations in the USA.
Niantic announced the following: "Starbucks has a long-standing commitment to providing spaces for social interaction and real-world community building in its extensive network of locations. We appreciate their role in creating safe, welcoming locations for people from all walks of life to come together for refreshment and social engagement. Starting 11 A.M. PST on December 8th, this new partnership will transform 7,800 company-operated Starbucks stores in the United States into PokéStops and Gyms, giving Trainers even more places to play and to engage with their local Pokémon GO communities. And to cap it all off, Starbucks is creating a special-edition Pokémon GO Frappuccino for everyone!"
Niantic already partnered up with Sprint to allow you to use their stores as either gyms or Pokestops. Soon the game will invade every retailer around the world! Probably not, but Niantic is enticing more people to play the game with its accessibility.