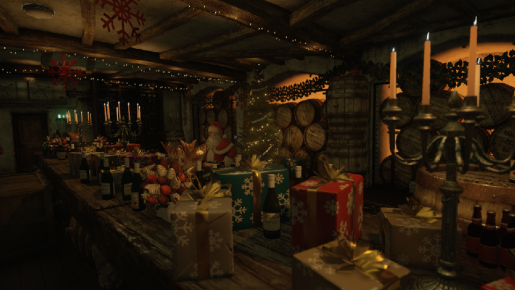 Io-Interactive has just announced a Christmas themed mission for Hitman, scheduled to release on December 13th.
Being released in support of World Cancer Research Fund, the 'Holiday Hoarders' mission is set on the Paris level, the first full level of Hitman. Using the Showstopper mission as a backdrop, the entire level has had a holiday makeover including lights, trees and presents.
It seems not everyone is full of festive cheer. Two thieves are wandering the fashion show stealing presents. Naturally, Agent 47 is the perfect man for the job. Some presents will have items to help 47 out and players can even utilize a Santa disguise!
This DLC isn't just about the game. Hannes Seifert, Studio Head at Io-Interactive had this to say alongside the announcement:
"Cancer is something which affects everyone in one way or another at some point in their lives and we at IOI wanted to do something to help raise money for Cancer research. We're supporting World Cancer Research Fund by giving away some fun free Holiday content to all Hitman players and we ask you in return if you want to donate to a great cause, to give what you can via WCRF-UK.ORG/HITMAN".