From the start, Frontier has been showing off some incredible looking Planet Coaster content. Complex rollercoasters with twists and turns, made via a piece by piece builder. Fully themed parks with purposely designed buildings to sell items, including burgers, balloons and hats. Great parks ready for players to dive into, full of hills, ravines and even great colossal trees. Thankfully, the game doesn't disappoint and we have previously only been treated to a glimpse of what Planet Coaster offers.
One of the best bits has to be that these carefully designed objects, shops and coasters can all be recreated by players, using the in-game tools. Gamers have adopted the creation tools and have built near perfect replicas of real world coasters and some incredible scenery pieces: the best of which has to be a recreation of the Millennium Falcon.
There are limits to what players can create. There are a lot of objects for players to utilize when theming buildings and customizing scenery. Some will be more useful than others but plenty of variety is already in the game. It would be nice to see in future updates some additional objects to spur on the creativity of the community.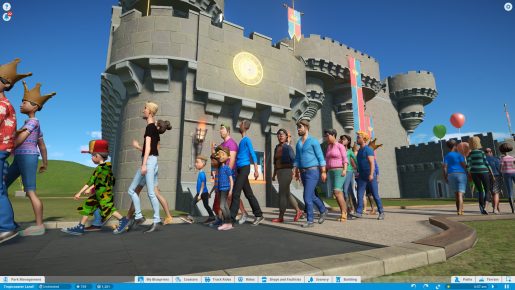 One major limiting factor is that a large percentage of the objects in the game are snap to grid only. This can cause some early confusion and frustration, as players learn the rules and limits of the building tools: which objects they can freely place, rotate, color and clip into other pieces and those which cannot. Once past this initial learning curve, players will soon start to see the potential of the tools at their disposal. However, I wouldn't be surprised if some give up using the fiddly tools and instead venturing to the Steam Workshop to download other players' Blueprints.
Creating a wonderful scenery piece or building can take some time. I spent approximately 5 hours creating the castle you can see screenshotted in this review. The intricate details were surprisingly not the longest part of the build. Instead, using stone wall pieces to create an arch, which house the portcullises, took the longest due to the small angle changes.
This is time which many players can simply not afford to spend on the creation of a single, albeit large, building. This is where Steam Workshop takes center stage. Already there are hundreds of coasters, shops and scenic Blueprints to download. The process is straightforward both ways. Uploading takes only a minute or so, choosing an image and adding some details about the creation. Downloading is even easier. Find something while browsing the Workshop, subscribe to it and the next time Planet Coaster is launched the Blueprint will have been downloaded for you and will appear in game.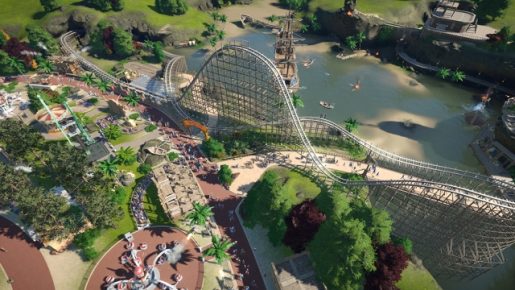 The premise of Planet Coaster is to bring the theme park building genre into the present with full 3D graphics and deeper peep simulations. It takes what the team managed to do with RollerCoaster Tycoon 3 and adds to the game in nearly every aspect. One of the huge advancements has to be the crowd of peeps that make up your parks customers. Peeps want to be entertained, however each individually have their own thoughts and budgets.
While there will be a sense of crowd mentality, when a ride is priced to high, some park customers will look at the money they have left in their pocket and be unable to pay the ride fee. Some customers will skip food options, as it would make them thirsty, and some will be happy to queue for a drink while others would rather miss out on an ice cold beverage. Although players can attempt to counter this by installing ATMs or building dedicated food and drink areas, it shows the depth of the system where players need to constantly plan prices and aim for some balance in their park.
For every park customer that the in-game counter shows a virtual customer is roaming your park. There are often plenty of thoughts for you to listen to, highlighted in Park Management by percentages of customers with similar thoughts. As a result, players cannot just spam one type of store or coaster to rake in money. If you do not have what an individual customer is looking for they will want to leave and head for the exit. Leaving unimpressed and with plenty of money that could have been earnt, still in their pocket.
The level of detail which can be tweaked by the player almost borders on over the top. Aside from the vast amount of visual customisation available, players can even install priority pass queues to squeeze that bit of extra money out of willing customers. This is a nice detail but pales in comparison to food and drink stalls.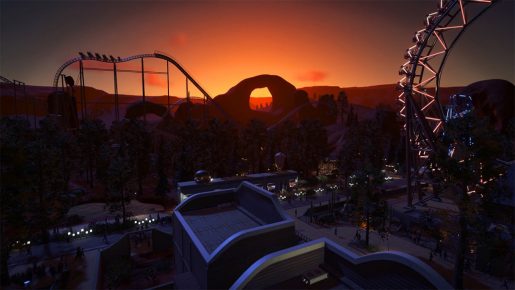 Take the Chief Beef burger stand for instance. It serves two types of burger, normal and XL, which players can set the price of separately. So far not unusual. However, players can decide if they should have cheese in, tomato ketchup in and more. It doesn't even stop there. For example, you can choose from three different amounts of ketchup! 'Why is that a thing?' you may ask. I think the question Frontier asked themselves was 'Why Not?'
Frontier has already released an update for Planet Coaster, less than a week after it launched, adding in new content. It also brought in a few bug fixes and tweaks the community had been requesting. A December update has also been promised and hopefully this will start to add in some of the features which I feel are missing from the title. Weather, which could add some variety to the visuals and gameplay, is a prominent missing feature. This is especially the case as a sunny symbol appears on the bottom right of the UI.
Other features which could add to the gameplay, other than more variety in flat rides, include security guards, a controllable virtual version of yourself in the park, a scenario or terrain editor and VR support. Not only is Planet Coaster all about rollercoasters, the game even feels built in a way that would shine in VR. On-board camera angles and first person views from customers are, as is to be expected, already in the title. Simply let players control a customer or VIP, roaming the park, riding the coasters and there you have it, an incredible VR experience.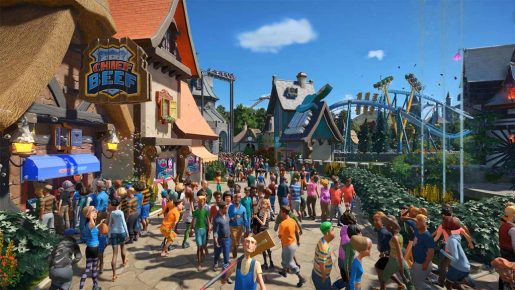 Complexity is very much possible within Planet Coaster. Intricate coasters, elaborate scenery and micromanagement of pricing and how fund are spent are all possible. Despite all of this, there is a simplicity that allows gamers to pick up and play Planet Coaster. Placement of rides and paths can be done with only a few clicks. Oddly, having undo to remove placed objects is a bigger game changer than it sounds. Players can use Ctrl + Z to undo recent changes such as path placement or buying a wrong scenery piece. It is a feature which doesn't seem like much but similar design and build games, such as Cities Skyline, would massively benefit from it.
Verdict
Players of theme park and coaster games of old will certainly get a nostalgic feel from playing Planet Coaster. It takes what we all loved from the past and brings them into the present day without losing the charm or enjoyment. There are a few issues with the limitations to creation but having some limits is, I'm sure, a necessary evil. Those with plenty of time will be able to create some fantastic scenery objects, builds and coaster and due to Steam Workshop integration everyone will benefit. Planet Coaster is a game which will only improve as more Blueprints become available and a few features which didn't make the launch window cut are added in, so why not join the ride.
[Editor's Note: Planet Coaster was reviewed on PC. The game was provided to us by the publisher for review purposes.]
Planet Coaster Review

,