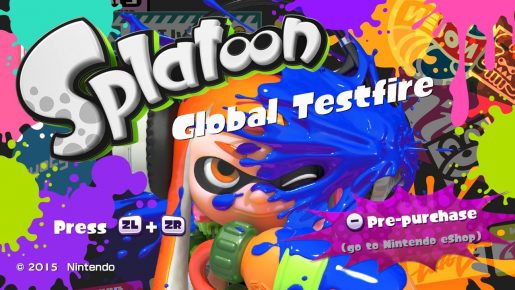 Nintendo have announced that a Splatoon Testfire Demo will be taking place from Aug. 25 to Aug. 28 between the hours of 3-5p.m. PT of each day. Anyone who has a Nintendo Wii U console can download the free Splatoon demo from the Nintendo eShop. Aptly referred to as a Summer Splatdown, this Testfire Demo will give folks a fresh chance to play Splatoon and experience its splatastic multiplayer. If you have not yet played Splatoon, you owe it to yourself to play this Testfire demo because the game is incredible and is one of the Wii U's must-own software releases.
Participants will battle it out in Splatoon's Turf War multiplayer mode. This mode will task players with the goal of covering the most territory possible with your team's color of ink. Turf War is one of the game's most chaotic and entertaining game modes, and serves as a great introduction for newcomers. Players will have access to four different weapon options, as well as two stages.
Weapons
• Splattershot Jr.
• Splattershot
• Splat Roller
• Splat Charger

Stages
• Saltspray Rig
• Walleye Warehouse
Since Splatoon's May 2015 launch, more than 3 million virtual square miles have been covered in ink, which is roughly the size of Australia. Splatoon has told more than 4 million copies worldwide.