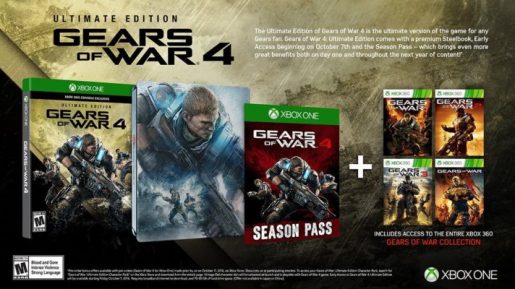 Amazon has listed that Xbox One gamers can now get a steelbook edition of Gears of War 4. This version comes with lots of extra bonuses.
This is called the Ultimate Edition of Gears of War and includes the Season Pass for the game and more. Official details can be seen below.
Gears of War 4 Ultimate Edition includes the base game (physical disc), a collectible SteelBook, and Season Pass.

Gears of War 4 Ultimate Edition is your gateway to Early Access for Gears of War 4, allowing you play on Friday, October 7 – four days before the game's standard release date.

Season Pass includes the exclusive Vintage VIP Pack, one year of unlimited map access, early access to an exclusive VIP playlist and six Gear Packs.

Never Fight Alone: With Gears of War 4, enjoy two-player co-op with friends locally via split-screen, over Xbox Live Gold or LAN. Player 2 can select either Kait or Del.

Redefined Cover Gameplay: New close-cover combat moves and combat-knife executions turn each piece of cover into an offensive opportunity.

Brutal New Weapons: An incredible arsenal of new weapons includes the Buzzkill and Dropshot, which can shoot around and over cover, raining destruction from all angles.
This version of the game will set you back $99.96. It will be released on October 7th, 2016 and it has free shipping in the USA.