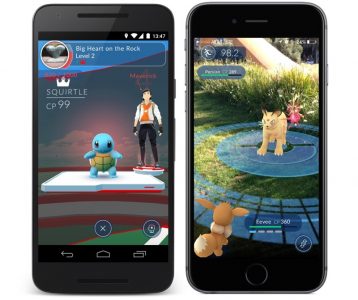 The Pokemon Company announced today that Pokemon GO is now available for download in the United States, along with countries like Australia and New Zealand.
The app can be downloaded in both Google Play and Apple AppStore free of charge. As with all free-to-play games, expect microtransactions where you can purchase more PokeBalls, and other items that will help your journey to become the Pokemon Master by using real world money.
Pokémon GO's features include:

Catch Pokémon: Pokémon GO invites players to step outside, walk around and catch wild Pokémon. As players increase in level, they'll be able to catch more-powerful Pokémon and gain access to more-powerful items. While working to complete the Pokédex, players will be able to evolve Pokémon by catching multiples of the same species and can even find Pokémon Eggs which hatch after a player walks a specific distance. Players are encouraged to keep exploring and encountering the many different Pokémon needed to complete the Pokédex!

Join a Team and Battle: Players can join one of three teams, Mystic, Instinct or Valor and assign Pokémon they have caught to an open Pokémon Gym location or to a Gym claimed by a fellow team member. Teams must battle against the defending Pokémon in their rival teams' Gyms to lower a Gym's Prestige and claim the Gym for their own team. Cooperation amongst team members is important in securing as many Gyms as possible.

Share the Fun: Activate the camera feature to take photos of Pokémon encountered in the world. With their real-life surroundings providing a backdrop for these photos, players will be able to share these memorable moments with their friends.

Customize the Trainer Avatar: Players can choose from a range of apparel and accessories to match their in-game avatar with their personal style. The customized avatar will appear on the map as players move around, as well as on their profile page. Trainer's avatars will also appear in Gyms under their team's control.

Soundtrack by Junichi Masuda: Pokémon GO will feature all-new music composed by GAME FREAK's Junichi Masuda. Mr. Masuda has worked on Pokémon video games since the very first games and has composed many of the classic and memorable songs that have inspired fans for decades.