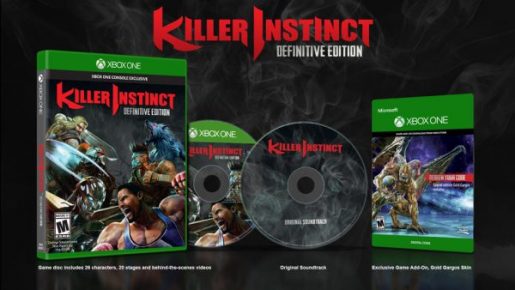 Microsoft announced today that the definitive edition of Killer Instinct, which includes all three seasons, will launch for Xbox One physically and digitally on September 20 for $39.99.
Every Killer Instinct fighter! That's 26 characters, including the remastered cast, original fighters like Hisako and ARIA, and special guest characters like Arbiter from Halo, Rash from Battletoads and General RAAM from Gears of War
All 20 stages, with visual upgrades and lighting changes (creating absolutely improved gorgeous fighting sets)
Killer Instinct Classic 1 & 2 for Xbox One – the faithful recreation of the arcade originals
Special features like every song in the Killer Instinct archives, every character trailer, and never-before-seen concept artwork
An interactive universe map with stage location details
Exclusive behind-the-scenes videos digging into the history, world, and design of this beloved franchise
Store exclusive: Bonus original soundtrack CD
Store exclusive: "Gold Gargos" exclusive character skin
Check out the announcement trailer below:
Check back with us near the release date for our review of the game.