Anime/manga games tend to be deeply rooted in fan service. They offer a new way to experience the story, along with a way to decide who would win in a fight. On the surface this stuff is great, but typically depth is sacrificed for bloated rosters, fan service and things of the like. One Piece Burning Blood is a fighting game that takes a handful of characters, plus countless more as support and tries to offer an experience that is both satisfying and enjoyable for fans. With so much going for it, is One Piece Burning Blood a must for fans or an insult to a beloved series?
One Piece Burning Blood takes an interesting approach to the series story. Instead of telling the whole story or at least the back half of it, it jumps to the Marineford arc, an event that takes place over 500 chapters into the series and then tells that story from multiple perspectives. To make matters worse, the story itself is told through static images with narration and the occasional cutscene. Fans can expect to be underwhelmed, with it offering nothing to newcomers besides confusion.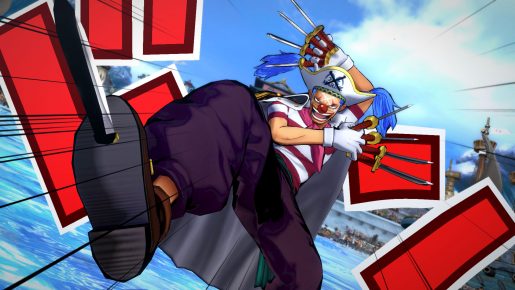 Unfortunately, the gameplay and roster are just as underwhelming. Similar to all the story missing, there are a number of notable characters that aren't playable. These include Arlong, Rob Lucci, Kuro and more being support, with some not even getting that.  Likewise, there are some interesting choices, such as Jozu, Drake, Kid and Koala, but they don't make up for missing key characters like Rob.
As far as the gameplay goes, there is very little to see. Fights take place on a handful of notable locations, in a 3D field. Every character has a couple of basic attacks, along with special moves that you can use to aid you in battle. From there One Piece Burning Blood offers a little depth by giving you the power to swap characters, guard, guard break, counter, super mode (like gear two) and so forth. These help make the combat feel a little deeper, though there isn't much to it.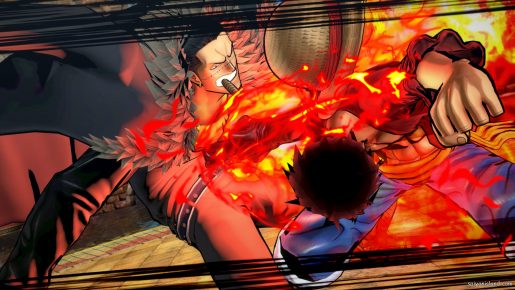 To aid newcomers or help people improve their skills, One Piece Burning Blood also makes it a point to describe every character. Whitebeard is a power character, Marco can move fast and a lot of the weirder characters are described as being tricky. As helpful as this can be, fans are typically going to gravitate to the characters they like, instead of the ones that match their playstyle or they can use.
Even though One Piece Burning Blood doesn't have a lot going for it, it has more than versus, story and online, like Watched versus mode. In this mode you fight enemies, under certain conditions, for special collectible items. The posters generally have themes, such as god Usopp versus Enel, making them interesting to play. However, as you progress in this mode the challenges can be brutal.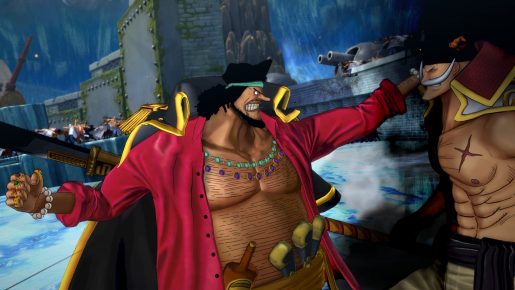 It got so bad that there were some 10 star special missions that took me multiple attempts to even deal damage to the enemy. While this means there will be plenty of room to improve, it can also be pretty frustrating fighting enemies with such large disadvantages too.
Verdict
If there is one problem with One Piece Burning Blood, its that there could be more of everything. The vast majority of the story is missing, what is included is underwhelming, the character selection has a number of notable omissions with very little in terms of things to see or do. Perhaps a future title will expand on this further, but in its current form, One Piece Burning Blood is a half baked game that honestly offers little to nothing for anyone. Be it fan, fighting game enthusiast or someone looking to get into the series, One Piece Burning Blood simply is not the game for you.
[Editor's Note: One Piece Burning Blood was reviewed on PS4 platform. The game was provided to us by the publisher for review purposes.]
One Piece Burning Blood Review

,