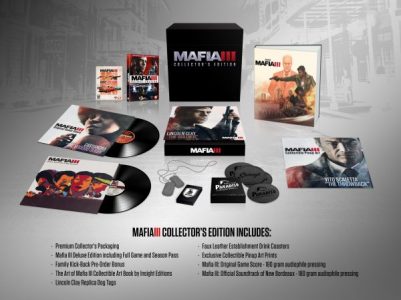 2K Games and Hangar 13 announced today the details of the upcoming Collector's Edition of Mafia III.
The Mafia III Collector's Edition will retail for $149 and will release alongside the standard $59 edition on October 7. Below are the contents included within the Collector's Edition:
Mafia III: Official Soundtrack of New Bordeaux – 180 gram vinyl pressing featuring some of the 60's greatest hit makers, including Otis Redding & Carla Thomas, Sam Cooke, The Animals, and more. The vinyl is a sampling of the larger in-game soundtrack, that includes an eclectic mix of Rock, Rhythm and Blues, and Pop, all colliding against a backdrop of war, civil unrest, and sweeping social changes that defined the 1960s.
Mafia III: Original Game Score – 180 gram vinyl pressing of the original game score for Mafia III. Composed by Jesse Harlin and Jim Bonney, two of the industry's great composers, the Mafia III original game score is a Rhythm and Blues inspired tour through a city ruled by organized crime and corrupt officials, and the setting for Lincoln Clay's emotional story of loss and revenge.
Exclusive Collectible Art Prints – Two lithographs from Playboy and the Alberto Vargas Estate representing a vast collection of art for players to discover in-game.
The Art of Mafia III Collectable Art Book – A 56-page visual look at the creation of New Bordeaux, a new game world fashioned after New Orleans in the summer of 1968.
Lincoln Clay Replica Dog Tags – 1960s US military issue replicas. These are the tags of a combat-hardened Vietnam vet fueled by the need for military-grade revenge against the Italian Mafia.
Faux Leather Establishment Drink Coasters – Representing the Paradiso Casino and Sammy's in-game criminal establishments, these aren't just souvenirs, but symbols of Lincoln Clay's motivations for revenge.
Season Pass – Future post-release downloadable content bundled at a discount.
For the track listings of the Official Soundtrack of New Bordeaux and Original Game Score, plus complete Mafia III: Collector's Edition details, visit: https://blog.2k.com/news/en-whats-inside-mafia-iii-collectors-edition.
Gamers who pre-order any edition of Mafia III starting today will receive the "Family Kick-Back Bonus," which includes three exclusive vehicles and weapons available to players at launch.
For those wishing to play the second Mafia game, it's now available on Steam at an 80% discount, which includes all downloadable content starting today all the way through June 8.