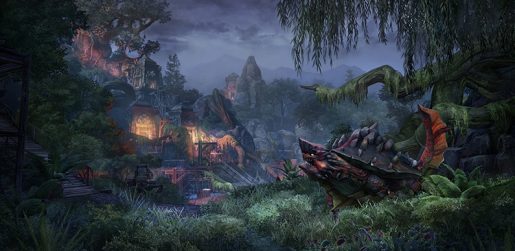 Following the release of The Dark Brotherhood DLC for The Elder Scrolls Online last week for consoles, Zenimax Online Studios revealed today that the next DLC pack for the hit MMO will feature two new dungeons.
The new update will be called Shadow of the Hist and the theme for the upcoming DLC is from none other than the Argonians. Unfortunately, no release date has been revealed yet except for new information that might get you excited.
Cradle of Shadows
Join the Argonians of the Dark Brotherhood in their battle against a cadre of rogue assassins threatening to hurl all of Black Marsh into bloody chaos. Fight your way through the Cradle of Shadows to uncover the secrets of the twisted Silken Ring! Cradle of Shadows is a 4-player group dungeon featuring both Normal and Veteran modes. Can you defeat its boss and claim its head as a new monster mask?

Ruins of Mazzatun
Venture into Mazzatun, the "Puzzle City" of the Argonian Xit-Xaht tribe. The tribe has been forcing other lizardfolk to work as slave labor on a twisted project that is slowly driving them insane. Overcome the slavelords and free their helpless victims before it's too late! Ruins of Mazzatun is a 4-player group dungeon with a Normal and a Veteran modes and valuable rewards, including a new monster mask.
According to Zenimax, there will be two new updates that will be released; one for the Shadow of the Hist DLC and a base game patch that will add more hairstyles, text chat for console clients, improvements in the Dragonstar Arena, and more.
For more information, check out the official The Elder Scrolls Online website.