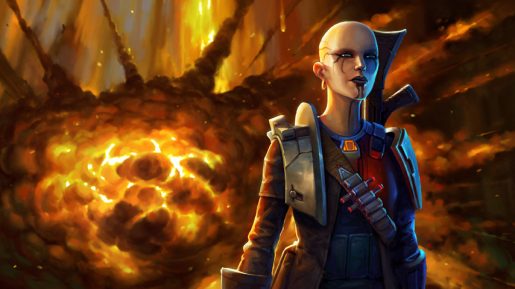 BioWare is pleased to announce today that the release of the next chapter in the episodic expansion story, Knights of the Fallen Empire, for Star Wars: The Old Republic will be released on February 11 – it will be called, "Anarchy in Paradise".
The much anticipated episode introduces a new ally, an infamous mercenary known as Firebrand. In this episode, her mission is to destroy the Eternal Empire by attacking Zakuul and crushing the seat of power, the Eternal Throne. As always, it will be up to you, the Outlander, to decide the fate of the alliance, including the newly introduced character Firebrand. Note that gamers will see grim consequences of their past decisions.
Only subscribers of Star Wars: The Old Republic will be able to play the upcoming episode. Just like in BioWare's past subscriber rewards, they have announced a new one. Here are the details:
– Players who are Subscribers on January 11, 2016 will receive HK-55 as a permanent personal Companion.
– Those who are Subscribers on the first of each month, from February through August 2016, will receive an in-game reward item themed to HK-55's gear and weapons along with two-day Early Access to the chapter releasing that month.
– Subscribers as of February 1, 2016 will receive the HK-55-inspired Jetpack Mount, built to withstand the harshest of conditions as players hover their way through the galaxy.
– Players who stay subscribed through the period of January 11 to August 1, 2016 will be invited to play a bonus chapter in which they can play as HK-55!