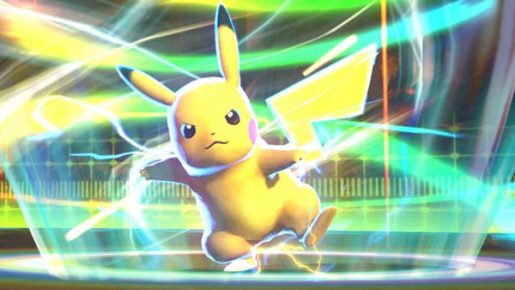 Nintendo is pleased to announce today that the much awaited Pokken Tournament for the Nintendo Wii U will be releasing in North America and Europe this March 18.
Here are the sixteen fighters that are confirmed to be playable in the game:
Pikachu – Pikachu overwhelms opponents with powerful electric shocks and quick movements.
Weavile – Weavile is a speedy fighter with a small body, sharp claws, and the ability to control ice.
Sceptile – Sceptile is a mysterious dark green shadow, the ruler of the jungle, and can control plants.
Suicune – Suicune is a Legendary Pokémon with powerful long-range attacks.
Pikachu Libre – Pikachu Libre, a wrestling idol, is a small masked fighter overflowing with fighting spirit.
Machamp – Machamp is a powerful fighter with unrivaled close-range combat skills.
Lucario – Lucario is an all-around solid fighter with a balance of offense and defense.
Gengar – Gengar is a phantasmagoric trickster, tough to read and hated by its opponents.
Gardevoir – Gardevoir toys with opponents from afar with fluid movements.
Garchomp – Garchomp is a heavy-hitting Pokémon with moves that close in on its opponents and deal big damage.
Charizard – Charizard is like a flame dancing in the air, using its white-hot power to overcome all opposition.
Shadow Mewtwo – Shadow Mewtwo can deliver a series of devastating blows, confusing its opponents into submission.
Chandelure – Chandelure's innocent spirit lures its opponents to the underworld. The flames of its long-range attacks can consume anything.
Braixen – Braixen strikes at foes from a distance with fiery distance attacks.
Blaziken – Blaziken is a hot-blooded fighter that rushes into battle with its fists of flame.
Mewtwo – Mewtwo combines cerebral agility with incredible power to dominate any adversary.
Check out the official website of Pokken Tournament to find out more.