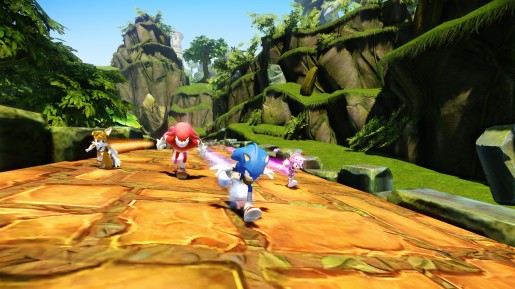 Not too long ago, we learned that the Sonic Boom would be the third title in the exclusive Nintendo and Sega agreement that we learned about prior. Coming to the Wii U and Nintendo 3DS, the game will fit in with the universe of the new TV show, with the same name.
One of the major decisions surrounding any game is the type of engine that will be used, and both Sega and Big Red Button Entertainment have discussed their choice in an interview with The Official Nintendo Magazine. Big Red Button Entertainment chose to go with Cryengine 3 Sonic Boom and Sega producer Stephen Frost discussed this decision in the interview by saying:
You associate CryEngine with lush, tropical, beachy things. These are also things with which Sonic is associated, so they work together.
Big Red Button CEO Bob Rafai went into even more detail by saying that they worked together closely with Crytek and it was "simply the right choice for the project." Look for Sonic Boom on the Wii U and Nintendo 3DS sometime later this year.