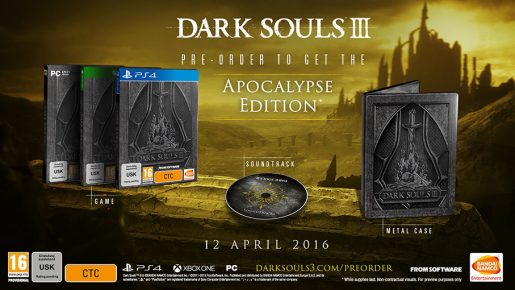 Bandai Namco announced today the release date of the much awaited Dark Souls 3 for Xbox One, PS4, and PC.
Dark Souls 3 will be available throughout North America and South America on April 12, 2016 across all three platforms. Just like the first two Dark Souls games, Dark Souls III provides players with an all-new world filled with heinous enemies, hidden secrets, and captivating environments as they search to destroy the awakened Lords of Cinder and discover what has happened to this apocalyptic land.
In addition to the release date announcement, Bandai Namco also revealed that Dark Souls 3 will be getting a Day One Edition priced at $59.99.
DARK SOULS III software
Prima Starter Guide
Official DARK SOULS III Soundtrack
Exclusive O-Sleeve packaging
Also, a Dark Souls 3 Collector's Edition was also announced price at $129.99 and will feature the following items:
DARK SOULS III software
Prima Starter Guide
Official DARK SOULS III Soundtrack
Official art book
Cloth game map
10" Red Knight Statue
Collector's box