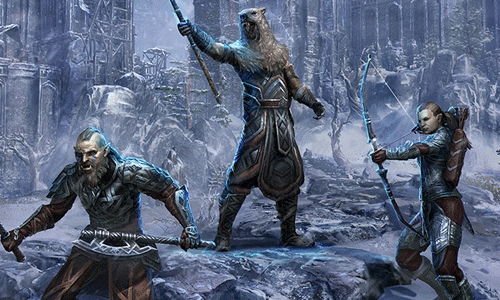 The much awaited Orsinium, the second DLC pack for the award-winning The Elder Scrolls Online: Tamriel Unlimited, is now available worldwide for both Xbox One and PS4.
Orsinium brings a lot of new content to The Elder Scrolls Online game like new dungeons, new area to explore, new gears, a single-player arena, new world bosses and a lot more. Fans can expect over 20 hours of new content deep within the Wrothgar Mountains.
Additional DLC Details:

New PVE Content for All Players
Adventure through hours of captivating new content, no matter your level.

The Maelstrom Arena
A new solo arena challenge, The Maelstrom Arena, features nine combat rings and two different difficulty levels. Test your might against the fiercest enemies imaginable as you, and you alone, fight for your life and if victorious, are granted generous rewards.

New Public Dungeons
Old Orsinium and Rkindaleft, Orsinium's sprawling public dungeons, feature all new-challenges for both solo and group play.

Orisinium-Exclusive Rewards and Items
Enjoy powerful new gear, unique crafting styles and other rewards inspired by the history and denizens of Wrothgar.
Gamers can purchase the Orsinium DLC pack via the game's Crown Store for 3000 Crowns. Check back with us in a few days for our review of the game.