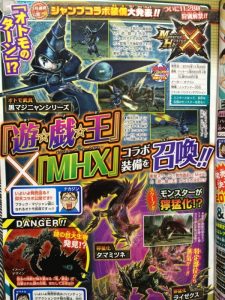 In the latest issue of Weekly Jump magazine, Capcom confirmed that Monster Hunter X will have some sort collaboration with Yu-Gi-Oh.
For those who are familiar with Yu-Gi-Oh, the Dark Magician will be one of the costumes a player can dress their Palicoes with. To be exact, the game calls the costume, "Dark Maginyan", instead of its original Dark Magician name.
When Monster Hunter X releases on November 28 in Japan, gamers can obtain the Dark Maginyan costume via an event quest that will be distributed at some point. Sorry guys, no word yet if this game will make its way outside Japan.