The Witcher 3: Hearts of Stone is the first paid expansion CD Projekt released for The Witcher 3. It expands Geralt's adventure for another ten to twelve hours and promises to offer a new storyline, new monsters, new characters to interact with and new areas to explore. For those who can't get enough of the base game and are looking for more, Hearts of Stone should be on your top priority list to purchase.
Regardless if you have finished the game or not, Hearts of Stone is open for everybody. If you are one of those people who never beat the game and is not at least level 32, you can start a new game by only playing the expansion. Upon doing so, Geralt's level will be automatically at 32 with all of the skill points ready to be distributed. As for those who beat the game, they can simply continue with their save file. With DLC in the past that requires people to beat the game, it's a good thing that The Witcher 3 doesn't do this.
The Hearts of Stone expansion for The Witcher 3 will take you roughly ten hours, depending on what difficulty you play at. If you plan to start a new game to just play the expansion alone and simply want to see the story, there's an option for that and it could take about seven to ten hours depending if you want to do everything. For a measly $9.99, the value of the expansion is worth it as the story alone in my opinion is worth that $10. Unlike other games that offers DLC with a weak story, I must say that your purchase will not go to waste on this one.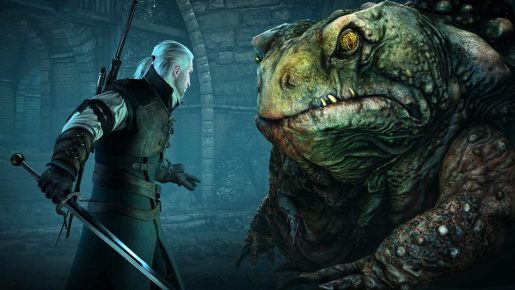 Geralt's story in the expansion starts off with a job offer posted on the Notice Board. His task is to go see Olgierd von Everec for a job that requires him to kill a monster. Upon listening as to what he has to say, Geralt will learn about a man that turns into a frog in the sewer. This is the start of a story that may seem rather awkward at first, but gets better as you finish through it. As soon as you take on the job to hunt for the monster in the sewers, three subquests will be unlocked and that's the start of the story breaking out into several parts that many fans will enjoy. Fans can look forward to themes like fantasy with fairy-tale like genre to a romantic-type drama.
There are several new characters Geralt will meet in the new areas of Novingard. Long-time Witcher fans will once again see Shani, in which she becomes a potential love interest of Geralt in this expansion. If Geralt is single in your playthrough and want to try out some things with Shani, definitely pursue her and make her fall for you. Aside from Shani, Gaunter O'Dimm makes an appearance in the game which becomes some sort of a mysterious figure in the DLC where he helped Geralt accomplish his mission, though he's left with a mark on him as a reminder of his debt. Just what is Gaunter O'Dimm up to this time?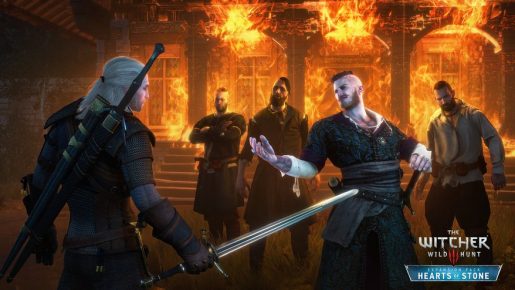 In terms of gameplay, the combat remains fantastic and smooth. Expect new bosses and enemies in the new expansion. Each of them packs a challenge and may overwhelm you the first time you meet them. One of the new enemies that you'll get to meet are the arachnomorphs which are scattered around the fields and caves. They are nothing like Ghouls but they are challenging when you encounter them, so beware. In addition, there are also new mini-games that Geralt will run across to – specifically the wedding even where he has to chase off the pigs. It's not that exciting but it's fun to do at some point.
One of the new things introduced in Hearts of Stone expansion is the use of Runewords. When you meet the merchant in Ofieri, he'll open up a shop that allows you to put buffs or some sort of powerful enchantments to your weapon. You have to combine three runes and depending what you combine, it can boost Geralt's attribute like giving him a huge boost to health and stamina regen once max adrenaline is reached. It's an interesting feature that makes Geralt's a lot of powerful, but I never really noticed the difference in my playthrough when fighting enemies.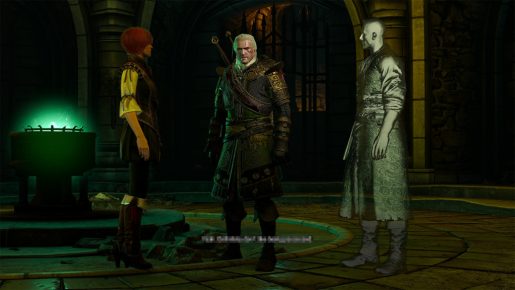 Visually, the game still looks beautiful. Geralt looks fantastic and the way Shani looks has improved compared to the first Witcher. The new areas that gets unlocked in Novingrand looks gorgeous and the new environments that Geralt will go through are simply stunning. Nothing much has changed in terms of visuals, though there are glitches along the way that I encountered, which isn't game-breaking.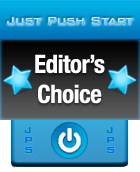 Overall, The Witcher 3: Hearts of Stone has one of the best quests that you can take in the Witcher 3. Thanks to the interesting new characters that Geralt will meet, CD Projekt managed to craft a storyline that is unique that fans will surely remember. For $9.99, Hearts of Stone is a complete total package that offers an engaging fantasy story, challenging new boss fights, quests that doesn't drag you down, and an improvement to the weapon that packs potential and maybe even expand in the next expansion. We definitely can't wait what the Blood and Wine expansion has to offer!
[Editor's Note: The Witcher 3 Hearts of Stone was reviewed on Xbox One platform. The expansion was provided to us by the publisher for review purposes.]
The Witcher 3: Hearts of Stone Review

,