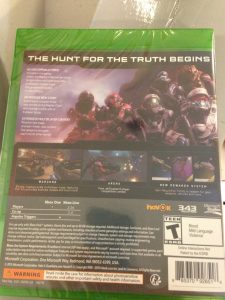 With Halo 5 releasing in about two weeks, Xbox One owners should start clearing up space on their Xbox One's hard drive as the game is supposed to require at least 60GB.
It seems that copies of 343 Industries' Halo 5: Guardians are already finding their way onto the streets ever since the game had gone gold. According to the text on the back of the box, Halo 5: Guardians requires players to have up to 60GB of storage space in order to play the game. It might be with the patches and all but if we were to look at the Microsoft's Online Store, it lists the file size at 46.19GB.
Check back with us near the release date for our review of Halo 5: Guardians.