One of the most anticipated games to arrive this year is Kojima's Metal Gear Solid 5: The Phantom Pain. After years of waiting, the much awaited title is finally here and being the last game that Kojima will develop for the Metal Gear series, all efforts had been put into it. Taking the gameplay elements from Metal Gear Solid: Peace Walker, and providing open-world areas for Big Boss to do his legendary work, Metal Gear Solid 5: The Phantom Pain is the last game from Kojima that fans will not forget.
The Phantom Pain takes place nine years following the events of Ground Zeroes. If you haven't played the mini prequel that Kojima released over a year ago, I recommend playing it first. Without spoiling much of the story and plot of the game, let's just say Big Boss is back and he'll venture through Afghanistan and Africa to seek out revenge after what happened to him and Miller in Ground Zeroes. With the Mother Base destroyed, he'll team up with Ocelot and Miller in rebuilding it renaming it Diamond Dogs. For fans of the Metal Gear Solid series, The Phantom Pain story sits in the timeline before the events of the original Metal Gear in NES and after Peace Walker. Those who have played Metal Gear on NES will find the connection after beating the game, though if there's one thing I am disappointed about in terms of the story, it would be the ending- it felt the story is rushed and there are many questions left unanswered.
For those who have played Peace Walker several years ago, the gameplay structure in The Phantom Pain will be somewhat similar. Since the Big Boss is once again running a mercenary group called Diamond Dogs, he will be taking missions that are divided into two: the main ones that are story based and the side ops, which are optional missions but doing it will give you rewards that might come in handy later in the game. There are a plethora of missions that are available in the game and doing them all might roughly take over fifty hours of gameplay. The mission types varies from assassinating an enemy, rescuing a prisoner, or infiltrating an area. It might get repetitive at times but don't worry, the open-world environment itself will add some flair to it as you are given different options to tackle your missions.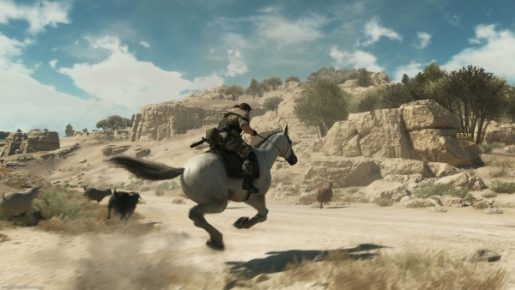 With the Mother Base back in action in The Phantom Pain, Big Boss is tasked to make it grow like the ones in the Peace Walker. It pretty much means that Big Boss will need to recruit soldiers to work for him and fill up the ranks in R&D, Intel, Med, Support, and more. Thanks to the Fulton Recovery System, Big Boss can recruit tranquilized or stunned soldiers that he takes down. Just like in Peace Walker, you have can have your Mother Base grow and the more expansive it gets, the easier the base can help you do missions. The bigger the Mother Base gets, the better items that you can develop, thus making your missions a lot easier to do. There's a catch though, there are resources that you need to collect before expanding the Mother Base and it will require you scouring Afghanistan for it. Yes, with the big open-world environment of the game, expanding the Mother Base will not be easy.
The open-world environment in The Phantom Pain works very well in this game. With many missions that are available in the game, sneaking your way through will be somewhat easier as you have an open field that you can sneak and run into, though be careful of soldiers hiding at certain locations. If you reach a point where doing missions bore you and you simply just want to explore the expansive world of Afghanistan, you are free to do so. Just remember that when you explore, you can gather many resources that are needed for the Mother Base, and there will be that opportunity where you can clear out Outposts.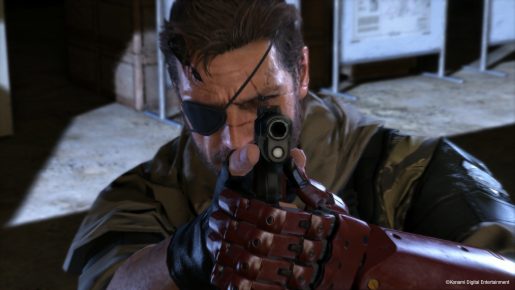 When doing missions, you have an opportunity to have a buddy come along with you. By default, you can bring along a horse to aid you in missions but as you play through the game, the option grows to a dog or a human character that I won't reveal as it's a spoiler. The buddies that you bring with you are customizable. Big Boss can give them an outfit or an armor to make them more durable in battle.
As a big Metal Gear Solid fan, one of my favorites in the series are codec calls and long cutscenes. Well, those are long gone in The Phantom Pain as codec calls are replaced with cassette tapes that you can listen to and cut scenes aren't that long anymore. For those of you who are annoyed that David Hayter is no longer voicing Snake, I'm sure you will not notice it at all as Big Boss rarely speaks. For the most part, it's Miller and Ocelot are the ones talking and directing Big Boss in the missions. Another omission they did The Phantom Pain are health bars. Yes, Snake will no longer rely on rations like he used to in previous Metal Gear Solid games but instead, Big Boss has regenerating health. Also, since this is now open world, radars are gone. It's disappointing with all of the changes in The Phantom Pain, especially to those who grew up with the series. It will take some time to get used to it but once you get past that, you will undoubtedly enjoy the game.
From all of the Metal Gear Solid games that I've played in the past, I must say that The Phantom Pain has the weakest story. It seems that Kojima didn't focus enough in polishing the story as I mentioned before, there are questions left unanswered after finishing the game. I leave it up to you to figure it out as I don't like to spoil them in the review. Just be wary that if you are playing this game for the story and expecting something like in Snake Eater, Sons of Liberty or Guns of Patriots, you will be disappointed. The weak story makes it up with great gameplay that will take you hours to beat the game.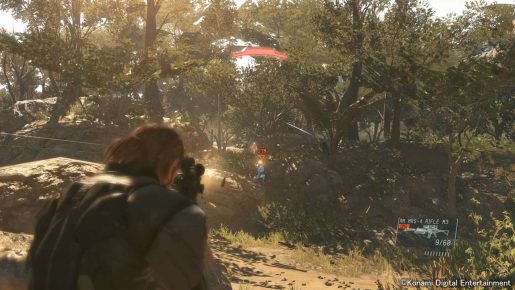 Visually, the Fox Engine looks stunning on PS4 and Xbox One. Character models look very realistic, and the environments are simply just spectacular. There is so much detail in almost everything that you see. Since the game is open-world, I was expecting random pop-ins but I'm surprised that it streams perfectly. From the many games that I have played, I must say that The Phantom Pain is one of the most beautiful looking games to date. Hopefully we'll see more of this kind in the future, especially with the future projects of Kojima.
Overall, Metal Gear Solid fans will probably have mixed feelings in regards to Metal Gear Solid V: The Phantom Pain. While the game offers plenty of missions and a large world to explore, it's lacking in areas, such as the narrative, that the series is known for. That being said, the gameplay makes up for most of The Phantom Pain's shortcomings, which is great, but it isn't quite what we've come to expect from a Metal Gear Solid title either.
[Editor's Note: Metal Gear Solid 5: The Phantom Pain was reviewed on the PS4 platform. The game was provided to us by the publisher for review purposes.]
Metal Gear Solid 5: The Phantom Pain Review

,