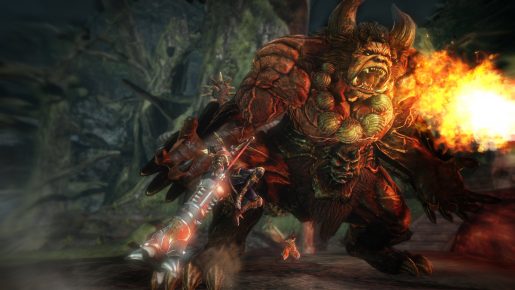 Koei Tecmo's monster hunting action game will take its first steps away from Sony's platform and prepare for a debut on Steam later this summer with Toukiden Kiwami.
Released earlier this Spring in North America for both Playstation 4 and Playstation Vita, Toukiden Kiwami is an updated release of 2013's Toukiden, adding along with it an extensive character creation mode, 300 various Mitama to boost the character's abilities and skills, and a core gameplay mode that focuses on multiplayer teamwork, not unlike that of Monster Hunter or Freedom Wars.
Preordering Toukiden Kiwami on Steam will net players a 10% discount from the full price of the game, as well as a bonus DLC costume set based upon two newcomers to Kiwami's story: Soma and Reki. Preorders will soon open up on Koei Tecmo's steam page.
While a North American release date has not been announced yet, Koei Tecmo offers us a June 26th release date for the European release.