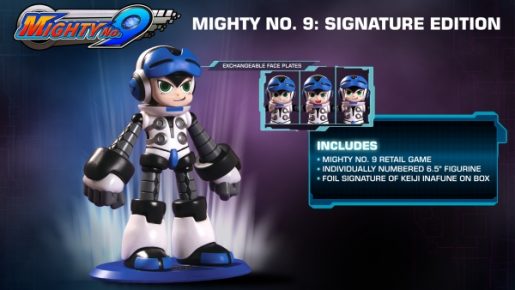 Deep Silver announced today that Mighty No. 9, one of the most anticipated games in recent memory, will be getting a Collector's Edition when it launches later this October 2015.
The Collector's Edition will be "extremely limited" and will cost $59.99. It will include a 6.5 inch, individually numbered statue of main character Beck and special packaging featuring a foil signature from its creator itself, Keiji Inafune. In addition, early copies of the game will include the "Retro Hero" downloadable content, which lets players battle as a retro-inspired version of Beck, as well as play the game in a one-hit death difficulty mode.
For PlayStation players, the game will be cross-buy compatible across the PS4, PS3, and PS Vita. This means if you buy one version, you'll get the other two for free.
Mighty No. 9 is due out in both retail and digital download this September 15 for PlayStation 4, Xbox One, Wii U, PS3, Xbox One, and PC.