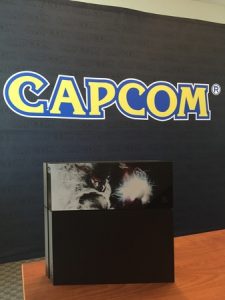 All throughout next week's E3 conference, Capcom will be hosting various exhibitions and demonstrations on their upcoming fighter, Street Fighter V.
Capcom has given us a regular schedule of when to expect to see some Street Fighter V action happening at their booth during E3 2015. With any luck, yours truly will be attending the Single Elimination Tournament sometime during the week. Why? Winners of the tournament will receive a custom PS4 faceplate, not unlike the one at the top of this article.
If watching beginners isn't your thing, Capcom will also be hosting a number of exhibition matches including a kumite of Capcom's own ComboFiend versus some of the top players from Team Razer (Xian, Fuudo, and RB), Team Mad Catz (Daigo, Tokido, and Mago), and Team Evil Geniuses (Justin Wong, Ricky Ortiz, PR Rog, Momochi, K-Brad and ChocoBlanka) on Wednesday. The full schedule including where/when to watch can be found below.
Event Schedule (all times are in PDT)
Channel: CapcomFighters

Tuesday, June 16, 2015 (Stream starts 12pm~6pm)

12pm~1pm: Single Elimination Tournament
1pm ~2pm: ComboFiend Kumite
2pm~3pm: [Stream] ComboFiend Character Demos/Pre-Exhibition Show
2pm~3pm: [Stage] Ono-san Signing Session
3pm~6pm: Pro Exhibition: Team Tournament

Wednesday, June 17, 2015 (Stream 12pm~6pm)

10am~11am: Single Elimination Tournament
11am~12pm: Single Elimination Tournament
12pm~1pm: Single Elimination Tournament
1pm~2pm: ComboFiend Kumite
2pm~3pm: [Stream] ComboFiend Character Demos/Pre-Exhibition Show
2pm~3pm: [Stage] Ono-san Signing Session
3pm~6pm: Pro Exhibition: Singles Tournament

Thursday, June 18, 2015 (Stream runs 10am~2pm)

10am~12pm: Editor Elimination Exhibition (E3)
12pm~1pm: Single Elimination Tournament
1pm~2pm: Single Elimination Tournament
2pm~3pm: Single Elimination Tournament
3pm~4pm: Single Elimination Tournament
4pm~5pm: Freeplay