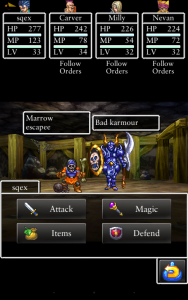 Square Enix announced today that one of their great classics in the Dragon Quest series will be making its way onto mobile devices. If you own an iOS or Android device, you won't have to wait to play Dragon Quest VI: Realms of Revelation.
Originally a Super Famicom release nearly twenty years ago, Dragon Quest VI marked the final entry in the Zenithian Trilogy started with Dragon Quest IV on the original Famicom console. Set across two parallel worlds, Realms of Revelation was one of the heights of the series with its emphasis on giving party members the ability to switch between vocations easily at the Alltrades Abbey as well as a number of full featured Slime minigames including the memorable Slimopolis.
Dragon Quest VI: Realms of Revelation also features a number of enhancements on the mobile side of things, such as vertical screen orientation that benefits both one and two-handed play and a Quick Save feature if you suddenly need to take a call or be more productive in your day. Dragon Quest VI can be purchased directly from the Google Play or iTunes Store for a suggested price of $14.99, half the price of the DS version.