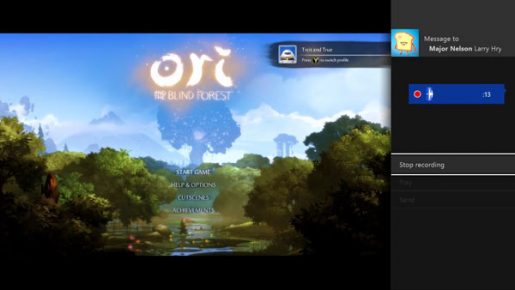 The much anticipated May dashboard update for the Xbox One has begun rolling out to owners of the console.
One of the key features of this month's dashboard update is the ability to send and receive voice messages via the messages app, as well as between the Xbox One and Xbox 360 users. In addition, players can now power up or turn off their Xbox One from the SmartGlass mobile app.
Check out the video below to see more of the dashboard's new features:
Voice Messages – You can now send and receive voice messages from the Xbox One messages app. This is the No. 1 feature requested in the Friends and Parties area on the Xbox Feedback site > "Add audio message …"
Power On/Off from Xbox One SmartGlass – The Xbox One SmartGlass app for Windows, Windows Phone, iOS and Android are being updated to let you power your Xbox One on and off when your devices are on the same home network as your console.
User Selectable Power Mode – We are also altering the initial setup experience on Xbox One worldwide to enable you to select your preferred power mode between Instant-on or Energy-saving mode.
Dedicated Servers for Party Chat – We will start to expand the availability of the party chat relay services beyond preview members to a broader audience as we continue to fine tune the feature and scale out the servers needed to support party chat relay services.