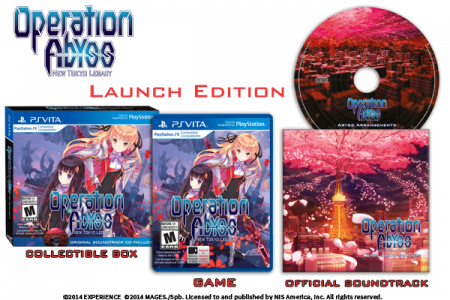 The latest dungeon crawling RPG from Experience Inc, Operation Abyss: New Tokyo Legacy, is little more than a month away from releasing in North America. To help fill that void until you can get your hands on their latest Vita title, NIS America has released a new trailer as well as shown off what the special first-print edition of the game will include.
Operation Abyss: New Tokyo Legacy is the latest dungeon RPG to hit the Vita and if you've played Demon Gaze in the past or picked it up during last weekend's Golden Week sale for $12, you probably have a solid concept of the basics for the genre. The new trailer from NIS America shows off some of the new systems, such as Blood Codes that can be used to further customize your squad.

Operation Abyss: New Tokyo Legacy will be available in North America on June 9th with a European release ahead on June 5th, both available physically or digitally. A special first-print Launch Edition for Operation Abyss will include the game's official soundtrack and a collectible outer box.