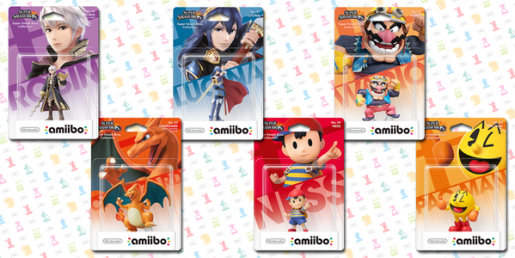 For those eagerly awaiting news on the upcoming wave 4 Amiibo, Nintendo of Australia has announce the dates for the next assortment of characters.
Continuing on the Super Smash Bros. trend, the six characters announced for Amiibo are all playable in the multiplayer brawler. Two Fire Emblem characters will make their debut: Robin (default male protagonist) and Lucina, both from Fire Emblem: Awakening. If you have your hands on Code Name: S.T.E.A.M., these two characters will be usable to unlock extra characters alongside previously released Marth and Ike. EarthBound's hero Ness will make his smash debut, sans baseball bat or yo-yo. If your collection needed some orange in it, perhaps you'd like to get your hands on Wario, Pac-Man, and Charizard to round out wave 4 Amiibo.
While not announced for any territories beyond Australia and New Zealand, these six wave 4 Amiibo will be available starting April 25th.