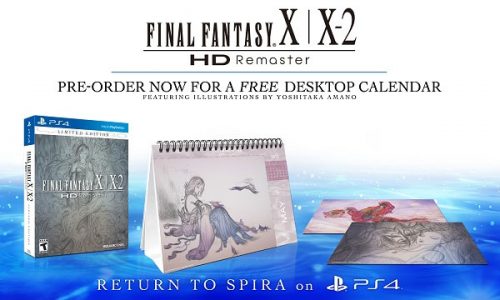 Square Enix confirmed today that Final Fantasy X/X-2 HD Remaster is indeed coming to PS4 and will be releasing this May 12 in North America.
For gamers in North America, the PS4 version will include a number of system-exclusive features such as bonus calendar for those who pre-order the game. As for people in Europe, a free steelbook case featuring artwork from Yoshitaka Amano will be given out.
Cross-Save Functionality – Players can transfer their save and continue their progress across the PlayStation 4 system, PlayStation 3 system, and the PlayStation Vita handheld entertainment system. (PlayStation 3 and PlayStation Vita versions sold separately.)
Ability to Switch Between Original and Remastered Soundtrack – Play Final Fantasy X with the beautifully remastered soundtrack or, new to the PlayStation 4 system version, switch back to the original classic tracks.
Remote play – Supported for the PlayStation Vita handheld entertainment system.