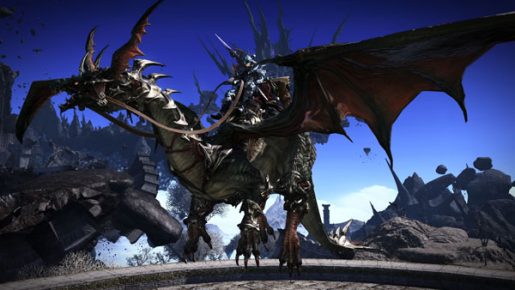 Square Enix is pleased to announce today the release date of Final Fantasy XIV: Heavensward, the first expansion to Final Fantasy XIV: A Realm Reborn, for PS4, PS3, and PC.
The expansion will release on June 23 and the early access will be begin on June 19. As always, those who pre-order the game will get the early access, though Square Enix hasn't open any pre-orders yet.
As previously mentioned, Heavensward will introduce new massive zones, flying mounts like a flying chocobo and a single rider airships, three new jobs, and more to the world of Eorzea. According to Yoshida, there will be around 1.5 times as much area to explore in Heavensward's new zones.
About

HeavenswardFinal Fantasy XIV that charts a new course for players with an increased level cap and brand new adventures. The expansion features an all-new storyline surrounding the Holy See of Ishgard and the thousand-year Dragonsong War, a brand new playable race named the "Au Ra," new jobs, and more. The expansion also continues cross-platform gameplay between the Windows PC and PlayStation 3 and PlayStation 4 systems.

Features

All the hallmarks of the Final Fantasy franchise, including genre-leading graphics and real-time cut scenes, an all-new soundtrack, and an immersive story experience.
Level cap increased from level 50 to level 60.
New player race, the Au Ra – with unique curved horns and scaled skin, the Au Ra hail from the eastern continent of Othard.
New jobs: Dark Knight, Astrologian and Machinist – players will be able to master three Final Fantasy jobs such as Dark Knight (Tank) who wields a two-handed greatsword and the power of darkness, Astrologian (Healer) who use a divining deck and star globe to call on the powers of the stars to heal allies and support party members, or Machinist (DPS) who deals damage from afar by using a combination of firearms and mechanical turrets that can be deployed on the battlefield.
High-end raids, includes a new raid dungeon series within the mechanical colossus "Alexander," based off the legendary boss in the Final Fantasy series.
New beast tribes and powerful primals – players will encounter the Vanu Vanu and their primal, Bismarck, and the Gnath, and their primal Ravana, allowing players to form new allegiances.
Flying mounts – Accompanying the vast new areas that feature floating islands are flying mounts for players to pilot such as the flying black chocobo and single-rider airships.
New gear, recipes and more.
Check out the trailer featuring the new areas: