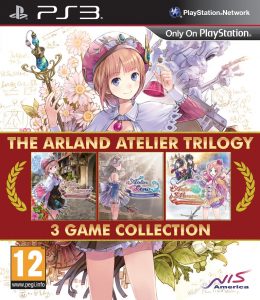 If you've been waiting for a collection of the first three Atelier titles for Playstation 3 and live on the east side of the Atlantic, you're in luck.
The Atelier Arland Trilogy includes Ateliers Rorona, Meruru, and Totori all in one bluray disc with its new release this morning. There's more high-impact alchemical violence in this pack than is legal in some countries, so be sure to clear your calendar if you plan on playing through all three games set in the Arland Trilogy. NIS America's trilogy pack will set gamers back £39.99/39.99 EUR.
Currently, the Atelier Arland Trilogy is only confirmed for a Playstation 3 release in Europe. If NIS America decides to bring the collection overseas, we'll be sure to keep you updated!