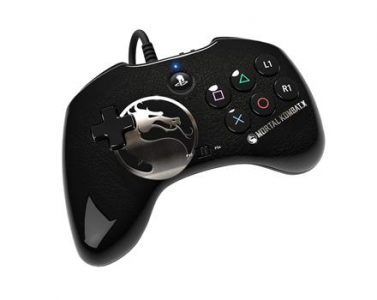 Set to arrive prior to the game's official launch in April, PDP is releasing brand new fightpads with a Mortal Kombat X motif.
If you're not a fan of playing with the existing controllers for either of the next gen consoles and don't quite want to invest the $200 to purchase a compatible arcade stick, PDP has a line of Mortal Kombat X-themed fightpads to help bridge the gap. While controllers that exist for PS3 and PS4 cross compatibility exist, PDP is bringing out new tech for Microsoft's family of consoles. New to the PDP controllers are a fightpad revision that feature a toggle switch between Xbox 360 and Xbox One usability. I've used a previous line of the PDP fightpads on Playstation 3 as a replacement while my arcade stick was being repaired and did not regret the experience. While the controller I used had a small joystick for the directional inputs, these new PDP fightpads seem feature a functional d-pad and the same micro switch design that PDP is known for. Amazon and Gamestop are currently taking preorders on the fightpads with a retail price of $49.99
While the PDP fightpads will be available on April 1st, Mortal Kombat X won't be available for the public until April 14th in North America. PDP will release two versions of their Mortal Kombat X fightpads, one with PS3/PS4 compatibility and the other with Xbox 360/Xbox One support. Both models will be usable on PC.