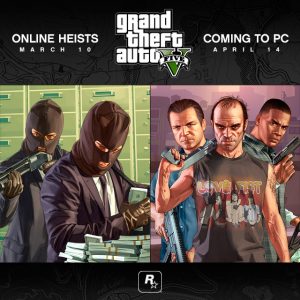 Rockstar sent out word regarding some updates to their 2013 open world experience, Grand Theft Auto V. If you have been looking forward to the March 24th release for Grand Theft Auto V on PC, we have some unfortunate news for you.
For the first time in the series, Grand Theft Auto V will be introducing online heists to their online component, GTA Online. Dated for March 10th, these heists will integrate a new 4-player cooperative experience into Blaine County. Similar to the heists in the core game, these will test players mettle with "intense, multi-part raids and robberies across Los Santos."
In addition, Rockstar also delivered the unfortunate news that Grand Theft Auto V for PC has once again been delayed. The new release date for both digital and retail releases will be set for April 14th in North America. The reason given for the delay is some last minute polishing as well as ensuring that both Heists and GTA Online will be ready to roll out on day one. To make up for the delay, anyone that has the game pre-ordered prior to its April release will be granted an additional $200,000 for GTA Online (approximate value: $4.99).