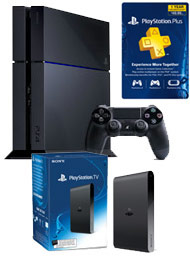 Sony's poorly marketed companion device to the Playstation 4, the Playstation TV, has seen its share of deep discounts lately. Best Buy and Amazon each have sold the Playstation TV for $60 in recent months. Now, Gamestop is including the mini console for free with the purchase of a Playstation 4 and year of Playstation Plus.
Priced at full retail price of $449.98, the Gamestop-exclusive bundle includes a brand new 500GB Playstation 4, digital copy of The Last of Us Remastered, one year of Playstation Plus, and the Playstation TV console. This bundle will be everything one person needs to hook their PS4 up in the living room and continue playing their games in the bedroom through the use of the Playstation TV, or also a large library of PSP/PS1 and Vita games in any room of the house, including the upcoming Hyperdevotion Noire.
The Playstation 4 bundle with the free Playstation TV will be available both online and in-store at Gamestop until February 24th and runs alongside their promotion offering up to $125 for select PS3/360 consoles towards a new Playstation 4.