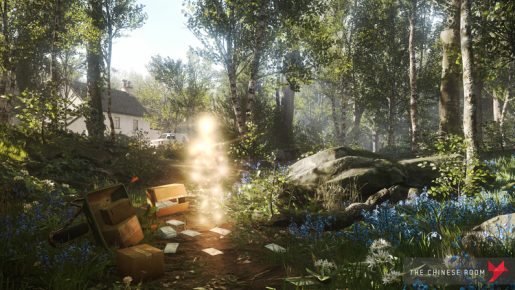 The Chinese Room game company's first foray on the Playstation 4, Everybody's Gone to the Rapture, has hit a milestone in its development cycle with finally reaching a functioning alpha build of the game.
As of last week, The Chinese Room had submitted a working build to Sony Santa Monica for testing and was approved, meaning work could further progress on development. While this is not an indication that beta status or even a release date are in the immediate future, this is a good indication that development is proceeding on a steady course for Everybody's Gone to the Rapture. Dan Pinchbeck, creative director for The Chinese Room, had this to say on the development progress.
QA kicks in hard now, with both Sony's internal teams and our new in-house QA tech – Foucauld Escaillet, who we're incredibly happy to welcome onto the team – will be playing the game over and over and over looking for everything from texture seams to places where things could, well, just be tightened up a notch (and there's always plenty of those). The art team split their time between bug fixing and environmental storytelling; now the world is there in its major components, it's time to focus on the small details that really sell the sense of place and people.

In a month's time, Jess hits the studio with orchestra and choir to record what I'm sure will be recognised as her best work to date – a score of incredible power and subtlety – and then together with sound designer Adam she'll begin the long process of mixing and integration. At this point, all of the audio in the game, including voice-overs and procedurals, gets overhauled, tuned to each other and gently massaged into the immersive soundscape we're aiming for.

We've just wrapped the first instance of a brand new AI system, which I can't talk about without giving too much away, but together with the effort now going into ambient visual effects is bringing the world to life around us. The stunning voice-overs recorded last year are being fleshed out with visuals and foley, and we're heading back to the studio in a couple of months to add the last parts of the game in, and there's some incredibly exciting news headed your way about that in the near future.
Everybody's Gone to the Rapture will be available exclusively on the Playstation 4 when it arrives in the coming months. Expect to hear more news on development in March!