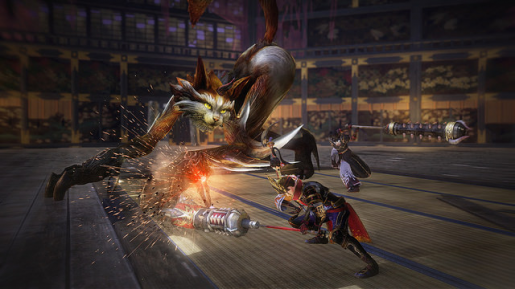 If you're like me and wish there was a true Monster Hunter game on the PS4, Koei Tecmo might be able to ease that pain with the upcoming release of Toukiden Kiwami. The updated version of the Vita-exclusive will not only include new content and characters, but also will arrive on Sony's current gen console for the first time in the series.
More than just a port of the original title, Toukiden: Kiwami expands on the story with nearly double the story content of the original, two new characters for your party, new weapons, and over 100 new mitama. For those that have already invested time into Toukiden: Age of Demons will be pleased to know that saves will transfer into the new game  In addition, cross-play will be a newly added feature to Toukiden: Kiwami, allowing play between PS4 and PSVita systems.
Toukiden: Kiwami is slated to arrive in North America on March 31st and Europe on March 27th. Expect to see the title available in both physical and digital formats whether you plan to pick it up for PlayStation 4, PlayStation Vita, or both.