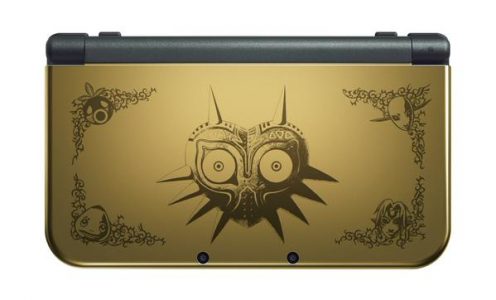 Only just announced earlier this morning, one of the New Nintendo 3DS XL limited edition consoles is already in high demand. Donning a special black and gold motif, the New Nintendo 3DS XL Majora's Mask edition has already sold out of not just one but two retailers.
The Legend of Zelda: Majora's Mask-themed New Nintendo 3DS XL was up for sale via Gamestop's website (and not available at the local store level) shortly after being unveiled during today's Nintendo Direct. In less than an hour, Gamestop had hit its allocation of units and shut off reserves of the upcoming console. Later, Best Buy opened up reserves of the upcoming console only to be filled up just as quickly. With two retailers at capacity, it is only a matter of time before other online retailers such as Amazon or Target start handling reserves on the New Nintendo 3DS XL consoles and hopefully more units of the Majora's Mask limited edition.
Regardless of which model of New Nintendo 3DS XL you plan on picking up in North America, all of the various SKU's will launch on February 13th. As of tonight, Gamestop is still taking reservations on their store-exclusive Monster Hunter 4 console.