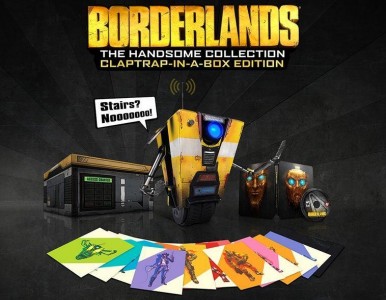 If you're looking to find ways to show you're a true Borderlands fan and picking up Borderlands: The Handsome Collection isn't enough, why not consider adding a $400 claptrap to your collection?
Limited to 5,000 units worldwide, this special edition of Borderlands: The Handsome Collection has something that no other game can offer: a remote-controlled Claptrap. Not only will Claptrap be able to move around on its one wheel thanks to gyro technology, it also offers a selection of signature Claptrap dialogue samples and a working camera embedded in Claptrap's eye that can be viewed via mobile phone. Rather than using a remote, owners can use their mobile phone and a companion app called ClaptrApp that will be available for both iOS and Android upon release.
The Claptrap-in–Box edition will also includes twelve vault hunter lithographs and a steelbook case to house the included copy of the game for either PlayStation 4 or Xbox One. While Titanfall's collector's edition set gamers back $250, that version didn't have a functioning titan so consider that extra $150 well spent for your very own CL4P-TP unit. You can check out a video of a prototype Claptrap in action below.