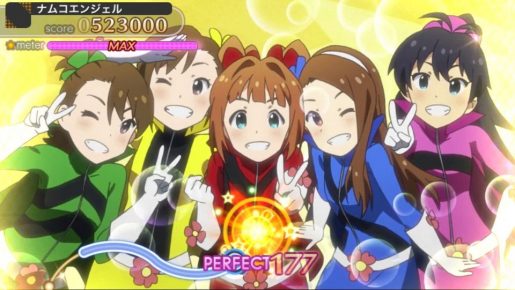 Bandai Namco's idol raising sim has seen very little release here in the States. Without a localized release on any Sony platform, interested gamers instead were limited to having to purchase the game on iPhone/iPad. There were three iDOLM@STER games available to US audiences, but each of them ran about $54.99, making it a hefty investment to get into the series. Now, Bandai Namco has slashed the prices for the holidays.
At a discount of more than 50% off, you can pick up each of the three English iDOLM@STER games from the iTunes store for $24.99 a piece. Gamers will have their choice between Shiny Festas: Harmonic Score, Melodic Disc, and Rhythmic Record. Players may have a hard time picking between the Shiny Festa titles, as each one features a different selection of four or five idols. Each of the three iDOLM@STER titles will feature English, Japanese, and Korean support. Rhythm games like this can take up a considerable amount of space, so make sure you clear off around 2GB of disk space per title.
Bandai Namco has not told us a time frame on this promotion, so I recommend getting in as quickly as possible to save on iDOLM@STER!